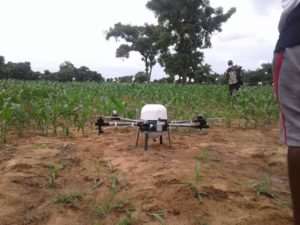 FARMERS AT Sakai in the Sissala East Municipality of the Upper West Region have been educated on the use of drones and newly introduced chemicals meant to fight fall Armyworms (FAW) invasions in the area.
The intervention comes at a time when the worms have wreaked havoc on large hectares of maize farms.
RMG Ghana Limited, which is helping to fight worms, has introduced a new chemical product to help in combating the menace.
The new chemical reportedly contains an effective compound that possesses the efficacy to contain the fall armyworms.
RMG Ghana Limited has since begun a nationwide spraying campaign to support government's fight against the pests in the country.
The spraying exercise, Code-named 'Kick Fall Armyworm Out' (KFO) is currently going on in the maize-growing districts of Upper East, Upper West, Northern, Brong Ahafo, Ashanti and Eastern regions.
Mr Martin Nartey, Business Development Manager of RMG Ghana Limited told the media during a spraying demonstration exercise at Sakai in the Sissala East Municipality last Friday that the company – as an agro-related entity – was concerned about the food security challenge posed by the menace of fall armyworm in the country.
He said the free spraying exercise would cover at least 2,500 hectares of farms in the six regions, with each region guaranteed some 250 hectares of free spraying.
Mr Nartey said about 30,000 hectares of farms in the Sissala East municipality and Sissala West district have adopted the new strategy.
"The free spraying exercise is targeting those who fall outside these groups so that more farmers and farms would benefit as RMG contributes to efforts to rid the system of fall armyworms or minimise their impact in the system," Mr Nartey said.
Mr Dela Nyarko, Marketing Manager of RMG, said the exercise is a corporate social responsibility triggered by reported shortfalls in yields recorded by some farmers across the country, following the fall armyworm invasion.
The government, through the Ministry of Food and Agriculture, is currently supporting farmers with some other chemical products to help contain the pests in the system, but Mr Nyarko said it was also important to rotate the insecticides because of the nature of the fall armyworms.
Fall armyworms ravaged large farms across the country, attacking grains in particular, and eroded potential yields last year.
Experts say fall armyworms are difficult to eliminate altogether once they invade a territory, and efforts must rather be spent on controlling their impact to reduce or minimise the potential damage they could cause.
The pests are said to thrive in dry conditions and could remain dormant or docile for months without necessarily being dead.