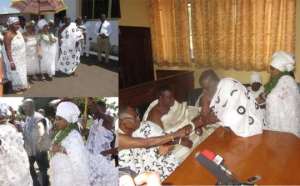 Madam Elizabeth Naa Anyema Nunoo, a 55 year old businesswoman, has been installed as the development Queenmother of the Ga State.
Naa Anyema Nunoo, who is the owner and Chief Executive Officer of Odo Rice Food and Services in Accra was enstooled with the stool name, Naa Anyema Ablade Okropong I, at a grand ceremony held in Accra on Monday, July 30, 2018.
The installation, which was the first of its kind in the history of the people of Accra, came about following a consensus reached by the elders of Ga Mashie.
Naa Anyema Okropong in an interview with the Ghana News Agency at the Ga Mantse Palace, said she accepted the positon because she wanted to foster unity among the youth and the elders and to spearhead the development of Ga Mashie.
She said: 'I have a major role to play in education and the social development of the citizenry, and I can only achieve this vision if I promote unity among the people in the communities.'
She assured the Queenmothers of the Ga State of her support and commitment in the development of the area.
Naa Anyema Okropong called on the people of Ga Mashie to unite and work together for the progress of the area.
Numo Nikoi Amasa II, the Asere Wulomo of Ga Mashie told the GNA that Naa Anyema Okropong was chosen because of her humility and hard work.