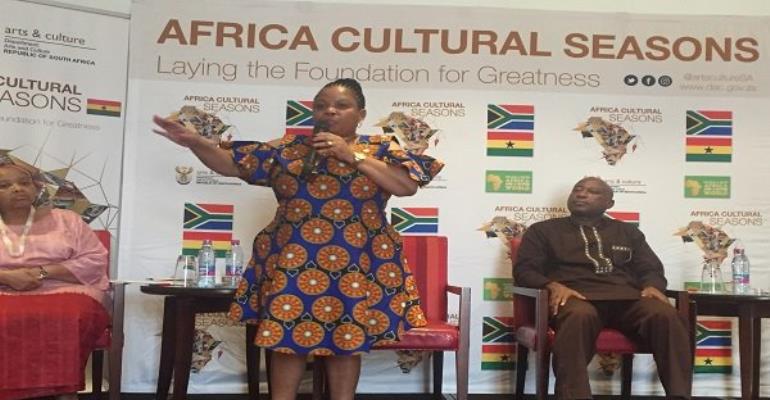 Ghana will from October 15-20, host South Africa's cultural season as part of efforts to promote regional integration and to support efforts towards the expansion of trade of Africa's cultural goods and services.
This is as of ongoing efforts by government to promote African Agenda through the Department of Arts and Culture in collaborations with the South African Embassy, and the Ministry of Tourism, Arts and Culture.
The programme is among others aimed at strengthening Africa Bilateral Relations; promoting regional integration; strengthening cultural and people-to-people relations as well as laying a basis for expanded trade and the promotion of cultural diplomacy as part of Government's broader socio-economic agenda.
South Africa's Deputy Minister for Arts and Culture, Ms Maggie Makhotso Sotyu reiterated the need for promoting Africa's culture as serve the unifying factor
As 2018 marked the centenary of Nelson Mandela and Mama Albertina Sisulu, the SA/Ghana Season programme will embrace the theme of, " Nelson Mandela Centenary –Be the Legacy". In line with this theme, the programme will celebrate the Centenary of Nelson Mandela through music, dance, fashion and design, exhibition, craft, mural and other cultural expressions .
The programme will include sharing of experiences and expertise through Master Classes as Africa and the world at large continues to reflect on his contribution in the liberation struggle and to humanity. The Cultural Seasons will also celebrate the Centenary of Mama Albertina Sisulu, the theme being, " A Woman of Fortitude".
"We have a golden thread that links us all as brothers and sisters. It is through culture that we are able to articulate and reflect the wishes and aspirations of the people for a united continent; let us always remember that the ties that bind us are greater than what separates us. Let's unite and celebrate our unique African identity." said Deputy Minister Sotyu.
Ms Sotyu is leading a delegation of South African artists which include Berita, Chef Citron Khumalo, Zwai Bala, Mafikizolo, Mbuso Khoza, Brenda Mtambo among many others as they showcase the country's artistic talents and to create an inter-cultural and inter-generational dialogue between Ghana and South Africa.
Also, Deputy Minister of Tourism, Culture and Creative Arts, Dr. Zimblim Iddi, , said the programme was in line with government's agenda to build on the strong cultural bilateral relationship.
"It is to deepen the process of Africanism through culture," adding that it would be a week of fun and education.
He said plans are already underway to have Ghana week in South Africa.
The programme, which forms part of South Africa's government socio-economic agenda, will contribute in the implementation of the African Union Charter for African Cultural Renaissance and African Union Agenda 2063, which both elaborates the importance of Africa's total emancipation and development as well as a call for the unite in Africa's cultural diversity.