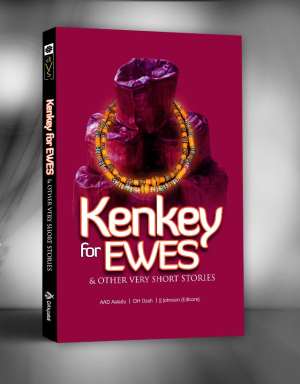 A book featuring the short stories of 27 young Ghanaians will be launched at Pagya! Literary Festival, at the Goethe Institute, on Sunday.
Titled Kenkey for Ewes , the anthology represents the budding creative spirit of the current generation of enterprising writers.
The collection of 50 flash-fiction stories is as varied as the diversity represented in Ghana, from Hohoe to Hamile.
"These new voices have become the refreshing perspective from which to consider the Ghanaian narrative in a thousand words. Or less," the editors of the anthology announced.
To be launched by renowned Nigerian lawyer and author Chuma Nwokolo, the work artfully explores the themes of global citizenship, intercultural relations, the entrapment of love triangles and delicate exchanges between the living and the dead.
Kenkey for Ewes critically departs from the more predictable and conventional trends to engage the paranormal and mysterious, while keeping a finger on the pulse of contemporary Ghanaian society.
Dr. Martin Egblewogbe of the Writers Project of Ghana said that it is gratifying to note that the purchase of print rights for the book occurred during the first edition of PaGya! last October and that the launch of the book is occurring during the second edition.
"As one familiar with the contents of the book, I surely commend the authors for telling their stories in such a powerful way, using one of the shortest fiction genres: flash."
The title of the book – which has caused quite a stir among lovers of literature – refers to one of the entries of the same title written by Edem Dotse. In the eponymous story, Sefakor and Nkasa, two romantic friends, are caught up in a seemingly boundless negotiation of their respective quests for acceptance and fulfilment in an ever-complex globalized world.
"When we first met the crop of writers and saw the manuscript, we knew at once that we had to work hard for the world to see this," Nana Awere Damoah, co-founder of DAkpabli Publishing, commented.
"Never have so many young people captured the stories of our time the way this army of writers has immortalized," Damoah added.
The book was edited by Awo Darkoa, Daniel Hanson Dzah and Jesse Johnson , the anthology is already on Amazon and Booknook.store. The audiobook version has been published by AkooBooks.com.
Kenkey for Ewes is one of the few Ghanaian books available in print, ebook and audio formats at the same time. It will be launched on Sunday, October 21, at 3 pm at the courtyard of Goethe Institute near NAFTI, Cantonments, Accra.