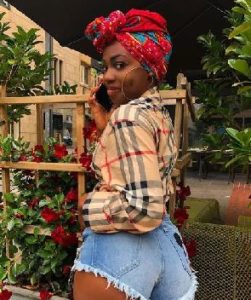 For some reason male Ghanaian celebs can't stay in their one corner with their wife or girlfriend or whichever lady they're currently with. They are always looking for fresh meat to chop down via social media.
New Inter Milan midfielder Kwadwo Asamoah seems to be the latest to have been caught red-handed sliding into a lady who's not his wife's DM to ask for her number.
The lady is Ohemaa Glory, a Ghanaian model based in Germany who usually floods social media with provocative shots of herself which seemed to have caught Asamoah's eye.
The 29 year old former Stars international slid into Ohemaa's DM to ask for her number but she refused to give it to him, tagging him a stranger.
That pissed off Kwadwo who blocked her and she also posted the chat on her page in retaliation.
After being blasted by Ghanaians she has taken the post down but as we all know, the internet never forgets.
Check out the screenshot of their chat below…