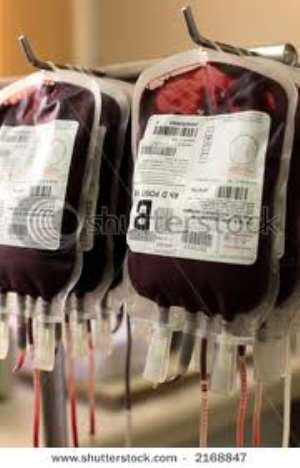 Mr. Emil Anornu, the Principal Blood Donor Organiser, of the Effia Nkwanta Regional Hospital, says donating blood is a healthy exercise, which saves the live of the donor from illness.
He said, "Blood donation is not a dangerous venture as perceived, rather it saves you the donor because you have new blood circulating and you cannot easily fall sick ".
Mr. Anornu who said this during a blood donation exercise organised by the GN Reinsurance company Limited for selected senior high schools in the Metropolis, noted that the blood situation at the Regional Hospital left much to be desired and therefore encouraged voluntary donations by the public to help save lives particularly during emergencies.
He said the rate at which blood was used in the facility which served as a referral centre in the Western Region far out-stretched stocks adding, now we have to put in place mechanism such as replacement and pre-donation of blood to save the situation.
The Principal Blood Donor Organiser said the hospital did not also have the capacity to offer 'goodies' to voluntary blood donors and called for more sponsors to come in and assist the facility.
Mr Joseph Kusi-Tieku, the Managing Director of GN Reinsurance Company Limited said the company felt the need to be socially responsible, hence the exercise to help save lives of the business Communities in which they operated.
He said the company opted to take up the exercise with school children to expose them to the need to be selfless and give back to society.
Mr Kusi -Tieku said the two-day blood donation exercise underscored the need for blood in the hospital to save lives of the sick and accidents victims among other vulnerable groups.
The GN Reinsurance Company Limited acts as insurer to many insurance companies who may not have the capacity to absorb all the risks associated with a particular transaction.