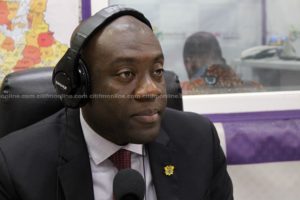 Deputy Minister of Information, Kojo Oppong-Nkrumah has categorically stated that the Akufo-Addo administration will only resort to appropriate and efficient methods to ensuring that revenue mobilization methods are met.
Speaking on Asempa FM's late afternoon show Ekosisen, the Deputy Minister of Information stressed that government in consultation with the Economic Management Team and Cabinet will relay information on the decisions reached by the economic management stakeholders on the current revenue measures and its results on the economy.
Mr Oppong-Nkrumah explained that government despite not meeting its revenue targets made some significant gains and hence does not need to add up more taxes to the citizenry.
Instead, he pointed out that the government will look at other avenues such as recouping the about 9% of GDP lost in taxes.
The Ofoase Ayirebi MP stressed that government has officially not announced any increments in the current tax regimes and as such people should disregard speculations making rounds that government is seeking to introduce or raise taxes.
He, however, assured that government through the Finance Minister on Thursday, 19 July will make some very firm pronouncements which will be of great relief to citizens of this country.
"The Akufo-Addo government is a listening government and hence will not do anything to bring hardship on the Ghanaian citizenry," Mr Oppong-Nkrumah stated.
It will be recalled that earlier this month, the minority in Parliament expressed concerns about government seeking to increase and introduce new taxes.
Mr Oppong-Nkrumah assured that government's decision will only tighten revenue measures to ensure that it delivers on its promises to the people.