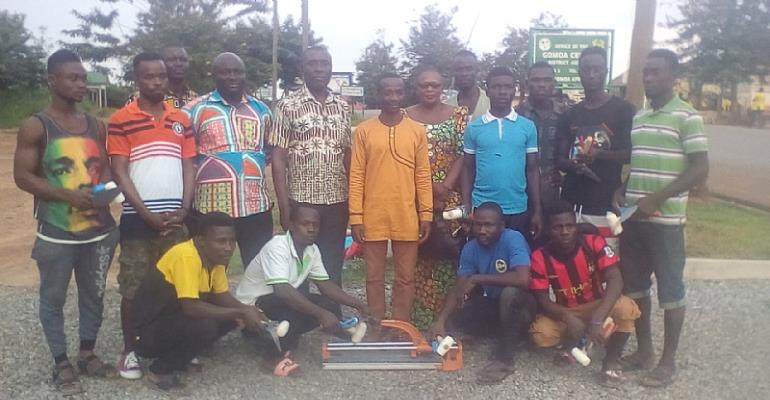 " His Excellency Nana Add Dankwa Akufo Addo led NPP government is committed to job creation thus introduction of numerous policies and programmes aimed at creating jobs to reduce unemployment, DCE for Gomoa Central, Hon. Benjamin Kojo Otoo has noted
According to the District Chief Executive, creating jobs for the citizenry has become the topmost priority of the NPP government.
" Through the Metropolitan, Municipal and District Assemblies, employable policies and programmes have been put in place to boost the economic lives of the people thus reducing poverty why affects national development.
These programmes and policies are meant to make the unemployed people especially the youth self sufficient and to ensure economic growth"
Hon. Benjamin Kojo Otoo said this when addressing some artisans drawn from Gomoa Aboso, Gomoa Ekroful, Gomoa Akropong and Gomoa Ekwamkrom communities after they had been trained in tiles laying to add value to their skills as building architects.
The training was instituted by Rural Enterprise Programme supported by Business Advisory Centre (BAC) and the Gomoa Central District Assembly.
" I will like to entreat you to form cooperative groups to enable you access loan facilities to finance your work as artisans. The Gomoa Central District Assembly has trained a good number of the youth in their various fields of operations to cushion them economically.
Endeavor to put into practice what you have learnt. Skill training is very important especially to you as artisans. As you go into your fields, try to work in honesty and eschew laziness to attract customers who would create more job opportunities for you to expand your business.
I would also like to encourage you to be ambassadors for job creation, as you go out there, be a trainer who would train more people be self sufficient to contribute their quota towards national development "
The DCE assured that the Assembly would assist them with tools and equipment to enhance their work as artisans.
He said the Member of Parliament , Hon. Naana Eyiah Quansah has declared her readiness to support the youth in the constituency to acquire vocation.
Mr. Nathan Arkaah, Focal person for Rural Enterprise Programme for Gomoa Central District announced that over 65 artisans and individuals have been trained in various skills to support themselves financially.
He stated that they had been trained to produce hair conditioner, hair pomade, parazone, shampoo, beads making, batik, tie and dye, tiles laying, soap making and others for the local market
Mr. Nathan Arkaah noted the Assembly and the Business advisory Center have been supporting the programme adding that more people would be enrolled to give then skill training as part of the job creation policy introduced by the Central Government to reduce economic hardships in the communities.
Adontehene of Gomoa Esikuma, Nana Ayeredu II advised the artisans to be more serious in executing their jobs saying income from their hard work would feed them and their families.
" Don't be part of the youth who are seeking quick money which does not guarantee brighter career. Take advantage of this training to better your lot.
Tiles laying has become lucrative business and it's up to you to strive hard to fix into the industry. I commend the DCE, and the Gomoa Central District Assembly for supporting the well-being of the people in the District. I hope more people would be given same opportunity to better their lives"
Presiding Member for Gomoa Central District Assembly, Hon. Kweku Nyarko Koomson lauded the Member of Parliament for Gomoa Central Constituency, Hon. Naana Eyiah Quansah for spearheading skill training for the youth who hinder to struggled to make a living.
He disclosed that Hon. Naana Eyiah Quansah has single handily put tens of people into apprenticeship. From dressmaking, hairdressing, masonry, electronics, modern method of cash crop farming for export among others.
" The Gomoa Central District Assembly would continually be grateful to Hon. Naana Eyiah Quansah for reducing Assembly's financial burden by supporting community self-help projects as well.
She has been the pillar behind the success story of the Assembly. Apart from creating jobs for the youth, she has been facilitating infrastructure development thus enhancing Assembly's programmes and innovations "