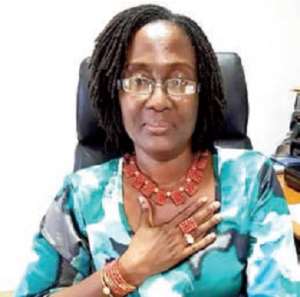 An interim autopsy report has attributed the cause of the death to strangulation and asphyxia, contrary to earlier police reports that Ms Josephine Tandoh Asante, the former Marketing and Public Affairs Manager of the Ghana Ports and Harbours Authority (GPHA) was shot and stabbed.
Five fresh leads were added to the case by the police yesterday in court to explain the circumstances surrounding the gruesome murder of the GPHA top official.
The new facts of the case do not contain the sperm angle the police initially claimed was found on the deceased.
Interestingly, DAILY GUIDE understands that the semen sample taken from Christian Agyei, 22 and Amos Apraku, 34, the two suspects being held currently, are still in the laboratory for analysis.
The police are currently stating that Amos, the official driver of the deceased, was also in possession of the keys to the house contrary to earlier reports that he found the keys at the main gate of the house.
Inspector Beatrice Aryeh, the prosecutor in the matter told the court that the deceased's son peeped through the window and found her mother lying in a pool of blood on the floor and alerted the house help.
Initially, the reports said the driver came to the house and found the keys on the compound.
They found the deceased lying in the pool of blood when they opened the door.
When the murder occurred at Emefs Estate, Mataheko near Tema on January 12, the two persons, Christian, who is the house boy and Amos, were arrested.
The house help was arrested after crime scene investigator saw him burying something in a polythene bag near the boy's quarters.
An amount of GH¢430 and wrist-watch belonging to the deceased were found in the polythene bag.
They are still in detention after the court denied them bail.
—Daily Guide