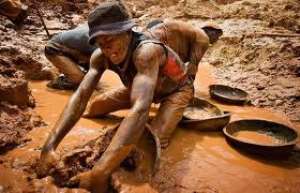 A group calling itself Gold Coast Small Scale Miners (GCSSM) is appealing to all Diplomatic Missions in Ghana to consider the current devastating predicament of small scale miners and offer them asylum opportunity as an immediate intervention to save their lives.
Leader of the group, Rooney Osei Bempah who made the revelation to the press indicated small scale miners in Ghana need life support policies to be able to move forward into the future due to the ban on small scale mining by the NPP government.
According to him, the continous extension of the ban coupled with the inconsistencies in the road map has rendered them hopeless with a bleak future.
Some of the challenges facing members of small scale mining enumerated consists of; huge attracted interest on loans resulting in arrest and court actions, selling of equipments and properties at cheap price to make ends meet, creditors especially fuel station owners hunting and chasing them out of their homes and inability to shoulder domestic resposibilities making way for broken marriages and children school drop outs are all genuine reasons for such call on the diplomatic missions.
He also suggested to government to create camps like the Liberian Refugee Camp at Gomoa Buduburam in the Central region where most of the members who find it difficult to provide even food could wake up every day and join the queue for their morning porridge and evening ration.
The call on the lift of the ban on small scale mining seems to attract the attention of several individuals and organizations nowadays.
Though government has come out to give some assurances, some of the small scale miners still have doubt.
An international organization (PACT) and the US Ambassador to Ghana Robert Jackson have all added their voice to the need of lifting the ban and decried its effects on the socio- economic aspects of Ghana