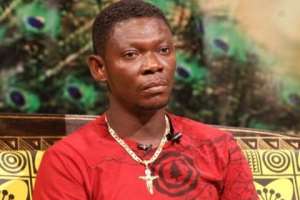 Kumawood director Frank Fiifi Gharbin has accused actor Agya Koo of womanizing and attempted rape.
The director, who has directed Agya Koo in several movies including 'Okomfo Anokye', claims the actor tried to forcibly have sex with an actress by the name 'Madam China' in a hotel during a movie shoot.
According to the Kumawood director, while returning from a drinking spree, he overheard screams from a room downstairs on his way to his own room upstairs in the hotel; a place where all casts and crew of the movie being shot resided.
He said he went into the room which he claimed was not locked, and separated the two, and took 'Madam China away'.
"He was trying to rape the girl"!
He went on to narrate to Andy Dosty on Daybreak Hitz on Hitz FM that, he took the girl away from the hotel to another location that night, where Agya Koo appeared in what he described as a "kungfu-like" nightwear, accusing him of having an affair with the said lady.
Agya Koo, who was in the studio, flatly denied the allegations, insisting the revelation was not in any way going to tarnish his image as the Director intended.
He questioned the credibility of the story, asking how it was possible for anyone to attempt to rape a lady in an unlocked room.
Mr Gharbin's accusation came as a retaliatory revelation after Agya Koo had accused the Director of unprofessionalism on set.
He accused the director of coming to set utterly drank, slowing down work.