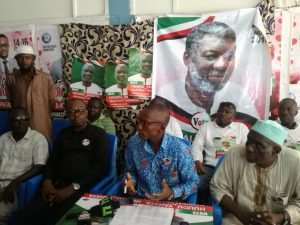 A group calling itself the Coalition of National Democratic Congress Youth Group in the Northern region has declared its support for National chair aspirant, Alhaji Hudu Yahaya.
The group's Communications Director, Seidu Fitter, at a news conference cautioned NDC members rallying support for their preferred candidates against any form of tribal bigotry.
The opposition National Democratic Congress (NDC) will soon elect its national executives as it prepares for the 2020 general election.
According to him, the NDC would be better off having John Dramani Mahama as its 2020 flagbearer, and Alhaji Hudu Yahaya as the national Chairman.
"The rank and file of the party should do away with the North-South pairing philosophy which has outlived its usefulness and purpose to the party."
"The North-South pairing of the NDC party between 1992 and 1996 was a "magical" theory due to circumstances and situations at the time. However, the potency of that theory fell short in the 2000 elections when Chairman Issifu Ali and Co-chairman A.A Munufie failed to secure victory for their southern Flagbearer in the person of Professor John Evans Mills" the group said in a statement."
Group warns against divisions
Seidu Fitter emphasized that, in the 2008 elections, the NDC presented a Southern Chairman, Dr. Kwabena Adjei, and a Southern Flagbearer Prof. Mills, and the result was a massive victory that saw the NDC back into the corridors of power.
He therefore cautioned aspirants who are vying for positions in the NDC to eschew acts that have the tendency to divide the party.
"As you advocate for regional balance, do you realize that in the unlikely event that Dan Abodakpi is elected the party Chairman, the President, the Vice President and the General Secretary will all be Christians without consideration for Muslims who have been very faithful and committed to the party? he asked.
John Mahama's campaign tour 
In a related development, a Presidential hopeful of the NDC, John Dramani Mahama, is to kick start his campaign tour of the Northern Region on Tuesday October 2, 2018.
The former President is expected to tour the 31 constituencies within five days after a campaign tour of the Central Region.
Some NDC youth groups and party executives at all levels have already declared their support for the former President.
The NDC Regional Chairman, Alhaji Ibrahim Mobila, and the NDC 007 youth group are among others who have endorsed John Dramani Mahama's candidature.