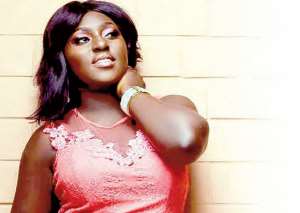 UK-based new Ghanaian movie producer, Eunice Oheneba Asiedu, has stated that she is not scared to invest in Ghana's movie industry.
According to her, unending claims by majority of Ghanaian movie stakeholders that the industry is dead or almost dead doesn't move her. She has the passion to produce movies, and she will go ahead to pursue that despite challenges facing the movie industry.
"Filming has always been my passion as I used to act years ago. I finally decided to try producing in Ghana. It was a challenging experience, I must say, and not an easy task to handle. The issue about the movie industry dying does not really move me," she told NEWS-ONE on Tuesday.
Movie stakeholders have always maintained that the movie industry has declined and blamed it on lack of government support, piracy, foreign content (telenovelas) and other causes.
The possibility that such claims would push investors away does not work with Eunice, who started her acting career in Ghana in 2009 but could not continue because she resides in the UK.
She returned home recently to produce an upcoming movie titled 'Once Upon A family', which stars both Ghanaian and Nigerian actors like Prince David Osei, Mercy Johnson, among others.
So far, she has invested over GH¢100,000 into the making of the movie and would still spend more ahead of the movie's premiere. She believes that she can be the one to bring change.
"As I said, this movie was a big budgeted movie but I dared and took the risk since it is my passion. I believe every change begins with oneself. I feel it as my calling and by God's grace will do my very best to revive the industry in my own small with the support of everyone. We all in our own power if we can make it happen," she indicated.
Eunice is in her late 20s and hails from Kade, but she was brought up in Akim Oda in the Eastern Region of Ghana. She attended Joduro Integrated School, Wesley Girls' High School and continued to the University of Ghana, Legon, before she moved to the UK. She is currently studying at the Global University in UK.
She started acting in 2009 and featured in movies such as 'Catch Me If You Can', 'Potential Love', 'Destiny's Child' and other movies. She took a break in 2012 and is now returned as a producer and CEO of Eunice Asiedu Productions.
Her upcoming movie also stars Nollywood actress Halima Abubakar, Selly Galley, Fella Makafui, Kisa Gbekle, Jeffrey Nortey, Bro Charles of 'Yolo' fame, Kofi Adjorlolo, Paulina Oduro and others.
"Ghana should expect a great one this year from EA Productions. We will be premiering 'Once Upon A Family' very soon and hope we all come in our numbers to make it a memorable one. This movie is a fun-packed one and you can't afford to miss it," she added.