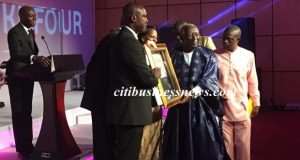 Former President John Agyekum Kufuor has stated that the current performance of Vodafone Ghana in the telecom industry shows that he made a wise decision in selling Ghana Telecom.
According to him, the present position of Vodafone Ghana, ranked as the second biggest after MTN makes him "feel like a seer or a prophet" whose critics did not see what he intended.
This is not the first time former President Kufuor has defended the decision to sell 70 percent of the then Ghana Telecom to Vodafone in 2008.
In 2014, he reiterated that he would repeat the act hundred times if in given the opportunity again.
The deal was worth about 900 million dollars.
Speaking after he was honored at a ceremony to mark the 10th Anniversary of Vodafone Ghana, Former President Kufuor reiterated that he has proven his critics wrong.
"There was a lot of criticisms when a government I led decided to give the concession to Vodafone. Thankfully, within the past ten years, I believe that the step we took have been vindicated such that now, as I sit here, I feel a bit like a seer, a prophet for deciding on Vodafone".
He maintained that Ghana Telecom was not operating profitably at the time and needed financial and capital injection to save it from collapse.
Meanwhile Former President Kufuor has urged Vodafone Ghana to list on the Ghana Stock Exchange to allow Ghanaians own part of the company.