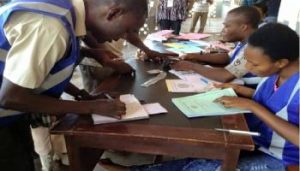 The Institute for Democratic Governance (IDEG) has begun the training of more than 1,000 election observers across the country to equip them with the needed knowledge and skills of reporting voting proceeding during the elections.
The Institute would deploy election observers on the field across its ten regional situation rooms to report back on the details of the voting processes including the collation of the results.
Mrs Diana Oppong, Programmes Officer at IDEG said the training was part of the Institutes capacity building for election observers before elections to monitor and report situation on the field of voting for necessary action if need be.
Mrs Oppong noted that the exercise was important for participants to be aware on what to expect on the voting day and what voters are expected to do when exercising their franchise and that the Institute had organised similar training in 2008 and 2012 prior to the elections.
"The training equipped them with the needed information, to give feedback with credible, adequate information and for the national election situation room to have enough adequate information to act on", she explained.
She said the exercise helps to engage a state institution on an anomaly occurring at a particular polling station and that information receive from the ground could helped authorities to take the needed action.
"We have hotlines that we give out during the operations of the civil society election's situation room. Each region has its hotline, and the national election situation room has its hotline which the observers on the field have access to and can call to report on any anomalies".
She said IDEG's intervention was geared to ensure transparent, peaceful and credible election outcomes as well build the confidence of state election institutions for peaceful election.
Major General Nii Carl Coleman (Rtd), the Chairman of Civic Forum Institute, said information on the field was critical in educating them on best strategies to use for subsequent elections, saying the exercise had become a model used in African countries.
He urged the observers to be circumspect and give accurate information, adding that any misinformation could cause disturbances which could mar the success of the elections.
He appealed to stakeholders to be decorum in the discharge of their duties and avoid intemperate language during the elections to ensure peaceful polls.