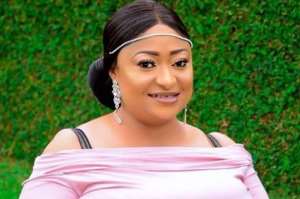 Nollywood actress, Ronke Oshodi, is not happy with the way some of her colleagues perceive her kind of person simply because she collects money at event she MCs.
Well, for the actress, that should not be an issue because she sees it as part of her job and before every event she is to anchor starts she says it clearly that she is happy that she is going to collect enough money for the day.
She has been mocked on several occasions by some of her colleagues who have tagged her a beggar and she admitted that she could be called whatever name as she accepts it that she is a beggar.
She stated that as far one is doing the job of an MC or entertainment, they are all beggars and she is proud of what she does because she needs to make a living since she is not wealthy like some of her colleagues and as such, whatever anyone says about her.
Ronke stressed that entertainment is her job and she will keep entertaining people and begging till she clocks 75 years of age.
In her words, "I'm a beggar, an actress, musician, MC we are all beggars. My fans I will beg money o, I don't have money so I will beg."