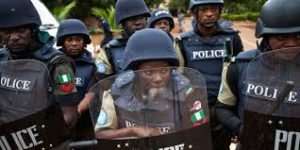 Barely 48 hours four policemen were reportedly killed in Benin city, Edo state, armed hoodlums operating in Akwuku Igbo community in Aniocha North local government area of Delta state on Monday evening allegedly killed a policeman and injured his colleague on a road block in the community.
Delta state Police Commissioner, Mustafa Muhammad, who confirmed the killing of the policeman to DAILY POST in Asaba, said "the policeman is sergeant, who was on patrol duty with his colleague who was shot but survived. He is currently being treated at the Federal Medical Center (FMC, Asaba). The hoodlums came in motorcycle, and unknown to the policemen they were armed, the hoodlums unleashed their terror on them on sight, four of the policemen escaped, one injured, one killed, we are investigating the incident. We will bring the hoodlums to book."
It was gathered that the hoodlums unleashed several gunshots upon entering the community, which in recent times has been under siege of communal crisis and armed robbery activities, before they swooped on the policemen who were on patrol duty towards evening after the heavy rainfall.
Eyewitness, Chukwuma Ike, told our correspondent that, "the hoodlums unleashed several gunshots on entering the community before they moved into the police men, they shot sporadically, operated in two motorcycles they came with. They sacked the community with uproar, after killing the policeman, they left with their guns before they police mobilized, the hoodlums had gone".
Investigation revealed that it was the third time hoodlums were sacking the community this year 2018 and robbed many unsuspecting residents including some traders who had gone to the market on the fateful day.
Credit: dailypost.ng