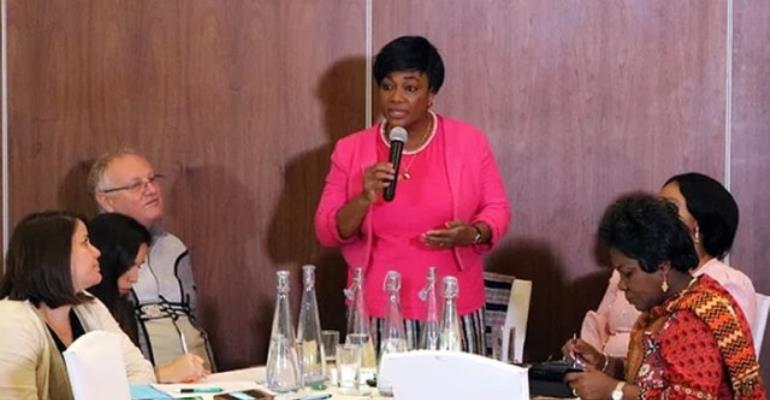 Ambassador for the State of Israel to Ghana, Ami Mehl, has appealed on the leadership of the New Patriotic Party (NPP) and the National Democratic Congress (NDC) to implement a policy that will allow at least 40% of their parliamentary candidates to be women.
Speaking at a day's workshop to strengthen the capacity of the Women's Caucus of Parliament, Ambassador Mehl bemoaned the number of women parliamentarians in Ghana.
"I think there is something wrong with the fact that Ghana has only 37 women MPs out of 275. The two big parties must have some kind of rule that will say at least we will have 40% of our candidates as women," Ambassador Mehl said.
Juxtaposing the situation in Ghana to that of Israel, Ami Mehl indicated that, although Israel is not in any better position, the two parties can implement policies that will increase the level of female political participation. "I am not saying that the situation in Israel is any better, it is absolutely not, although in our current Knesset, we have much more members of Knesset women but it is far from satisfactory."
Ambassador Mehl also emphasized that "we need a new way of thinking, and we need more women in parliament who can speak without being afraid of what the others will say because the others will also be women and it will be legitimate to think in a feminine way." He added that "we want to see all of you getting something that will help you not only to win your next primaries and elections but to take others with you so they will also win and make a change."
In her welcome address to the participants of the workshop, Hon. Otiko Afisa Djaba lamented over the low representation of women parliamentarians and women in governance positions, hence the need to put together a programme that will strengthen and increase the number of women MPs in the next parliament.
According to Hon. Djaba, "it is uninspiring and undemocratic for us to have less than 20% of women represented in parliament. It is the same in all the other appointments of governance. And so we want to organize a programme that will put our women at the forefront of issues that will let our society have a better appreciation of what women in parliament are doing."
Recounting her own challenges as a female politician, Otiko Djaba said "I went to world war one and I was beaten brutally by my own brother…and so I know how it is, but nobody can tell your story better than yourself and how you tell that story is why we are here today. It is not enough for you to win your seat, but how do you translate it into action in the leadership atmosphere in Ghana so that both men and women will believe that it is alright to have women in leadership positions."
Through this initiative, the Minister for Gender Children and Social Protection hopes to increase the number of women parliamentarians from 37 to 100. "I am looking to see 100 women in the next parliament. I know that it is over-ambitious. It is so daunting in Ghana to stand for any position when you are a woman, you are battered by women and by men but you have been resilient and we need to build on that to ensure that we get to parity by 2030."
The workshop was a collaboration between the Embassy of Israel's International Agency for International Development and Cooperation (MASHAV) and the Ministry of Gender Children and Social Protection. It is part of the Embassy's initiatives to contribute to Ghana's efforts and processes to socially and economically empower women.
In attendance were Female MPs from both the Majority and Minority Caucus and other staff of the Ministry of Gender, Children and Social Protection. The resource persons for the workshop included Dr. Michal Sela, a MASHAV Trainer, Mrs. Sarah Wilner, Representative of the Golda Meir Mount Carmel Training Centre in Israel, Hon. Joe Osei Owusu, First Deputy Speaker of Parliament, Hon. Cecilia Dapaa, Minister for Aviation among others.
Story by Ghana | Myjoyonline.com | GN