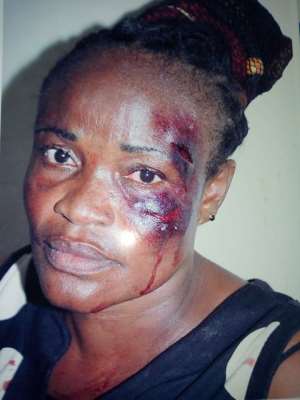 A Polling Station Executive of the Asante Akim North branch of the ruling New Patriotic Party (NPP) Madam Yaa Akyiaa has reported an alleged assault on her by a special assistant of the Member of Parliament for Asante Akim North to the Agogo Police.
Madam Yaa Akyiaa whose face was almost covered with blood oozing from the left part of her eyes told the police that there was a misunderstanding between another polling station executive and Akilibobo, the Special Assistant of the MP for the area, but the assailant managed to drag her in and verbally assaulted her.
When she could no longer stand the insults, which are unprintable, she threw a sachet of water which she held in her hand at the MP's special assistant which infuriated him the more, got off a motor bike and hit her severally with an unidentified sharp object which was concealed in his hand.
"While beating me and hitting my face with the object, he stated to the hearing of all witnesses there that even the MP, the DCE Francis Oti Boateng and constituency chairman Samson Agyei had told him long ago to beat me". She noted sadly.
After her statement to the police, she was issued with a police medical form to go to the hospital to know exactly what was wrong on her face.
Meanwhile an eye witness who corroborated the incidence told this paper that they were only spewing their displeasure about the lack of jobs in the constituency for their children, 'whenever we hear of any employment opportunity, before we realize it would have been given to an unknown person outside the constituency'.
The eye witness who identified herself as Sister Fausty, herself a polling station executives noted that they had fought severally and sacrificed a lot of things for the NPP in the constituency, hence they felt this is an opportunity to get their wards and relatives jobs but the MP and DCE are not helpful at all.
This, she noted infuriated Akilibobo who is a known polling station executive and a special assistant of the MP, leading to several verbal attacks on them and subsequently manhandling Obaa Yaa Akyiaa.
Speaking to other members of the NPP in the constituency, it was revealed that some supporters of the MP want to 'force a culture of silence' in the constituency hence would 'beat up everybody who dissents from their stand of the MP'.
Dennis K. Appiah, a former polling station executive in the area also recalled how some young men attacked and beat him mercilessly and after reporting to the police, 'it was a party car that brought the men who beat me and came to apologize to me'.
Meanwhile District Commander of the Agogo Police, ASP James Jerry Ameka confirmed receiving an assault complaint and a medical form issued to the victim.
He also told this reporter that the suspected assailant Akilibobo had turned himself in and was writing his caution statement.