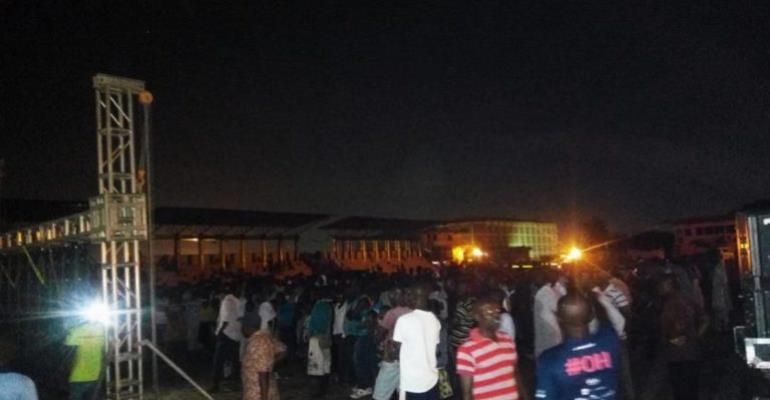 Thousands of people thronged the Jubilee Park in Kumasi to watch the Kennedy's Agyapong's documentary, who watches the watchman.
Following complaints by Kumasi and its environs for their inability to watch the documentary, the MP for Assin Central premiered the documentary, Who Watches the Watchman which to exposes the ace investigative journalist Anas Aremeyaw Anas.
The night was graced by all the Kumawood actors and actresses including Kofi Adu aka Agya Koo. Hon. Kennedy Agyapong and Abronye DC who were there to support the video premiering.
This whole brouhaha begun after the investigative journalist premiered his latest documentary dubbed #Number 12, which implicated some political figures including the President, the Vice President, some Ministers and the maverick MP for Assin Central.
Kennedy Agyapong, who has been a staunch critic of Anas prior to the video premiere and after, has taken all steps within his power to expose the identity of the ace journalist.
Already, Ken Agyapong has splashed the internet with pictures purported to be Anas. He has thus, labeled Anas has corrupt, evil, extortionist and a thief who enriches himself by exploiting the innocent. This verbal abuse propelled Anas to drag Ken Agyapong to court over defamation, which the journalist is seeking damages of a tune of GHC 25 million.
Ken Agyapong has far threatened to expose Anas and report him to Sheikh Khalifa bin Hamad Al Thani of Qatar, whom Ken said Anas impersonated him to extort people. Apart from him, Ken has threatened to report Anas' work to Aljazeera and BBC.
Meanwhile, Kennedy Agyapong has already written to the General Legal Council with attachments to investigate the "dubious" behaviour of Anas Aremeyaw Anas.