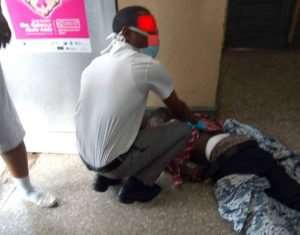 Relatives of some patients who arrived at the Korle-Bu Teaching Hospital in excruciating pain on Tuesday, had to buy plastic chairs to enable doctors and nurses attend to them.
This follows the Ministry of Health's directive to hospitals not to turn away patients who arrive with emergency cases even if there are no beds to accommodate them.
Citi News' Nii Armah Ammah's visit to the Korle Bu Surgical Medical Emergency Unit revealed that other patients who could not afford plastic chairs were being attended to on the bare floor in a congested room.
"Patients are receiving treatment on plastic chairs which they were made to buy because there were no vacant beds or chairs available," he reported.
Some photos which circulated on social media on Monday showed among other things, electrocardiography being carried out on a patient in a plastic chair rather than on a bed, which is the ideal situation.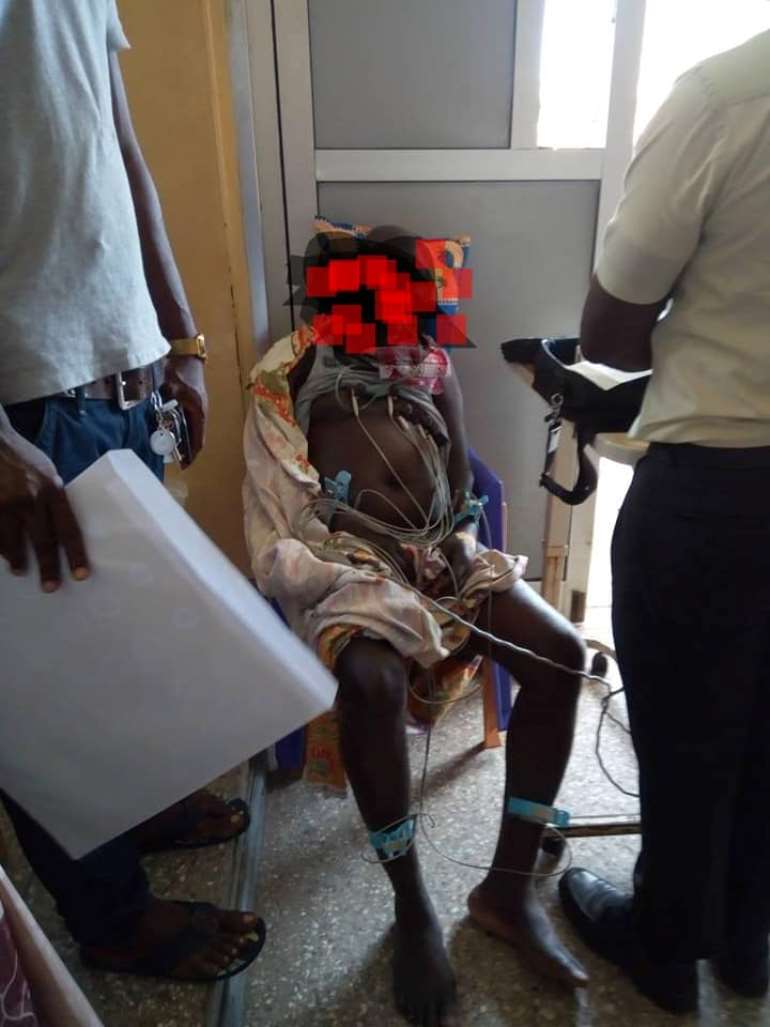 A middle-aged man who brought in a patient said despite the situation, medical officers are attending to patients.
He said the situation is worrying, and thus urged the government to work to address the problem.
"I realized there was no bed so I went out to buy a chair for them and to date, there are no beds…. As for the attention, they are giving it. We've gone for all the scans and all the tests. It is so unfortunate, and we pray that the government will do something about it…. We are begging the government to do something about it. There should be enough beds, enough wards, " he told Citi News.
A relative of another patient said health workers offered the patient a chair outside the ward because there was no available bed or sitting space within the emergency ward.
"They gave us a seat to sit on it since yesterday [Monday]. There is no space inside the ward. We don't have a bed to sleep on. For those inside, most of them are sitting on the floor, others are sitting on chairs. She has been on the staircase since she has been here. I asked the staff and they said there are no beds. We don't know when we'll get the change to go inside the ward.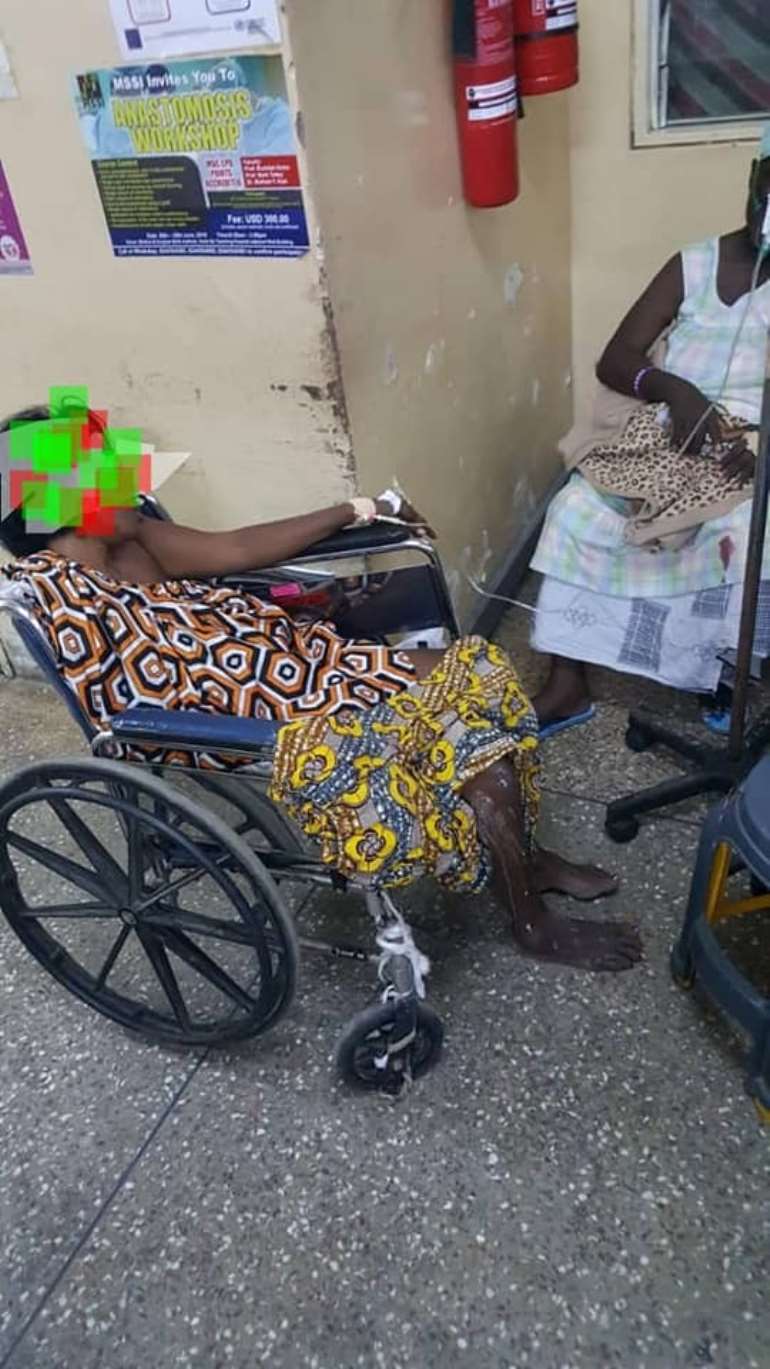 The Public Relations Officer of the Korle-Bu Teaching Hospital, Mustapha Salifu, said the hospital is not enthused about the situation and is working to decongest the ward.
He said the hospital as part efforts to decongest the ward is sending information to other hospitals not to refer emergency cases there.
"You can see that the place is still full beyond its capacity and we are trying as much as possible to reduce the numbers. At the moment, we are going to call them and ask them not to refer any patients to Korle – Bu. They should give us some space so that we can decongest the emergency before we can receive new referrals."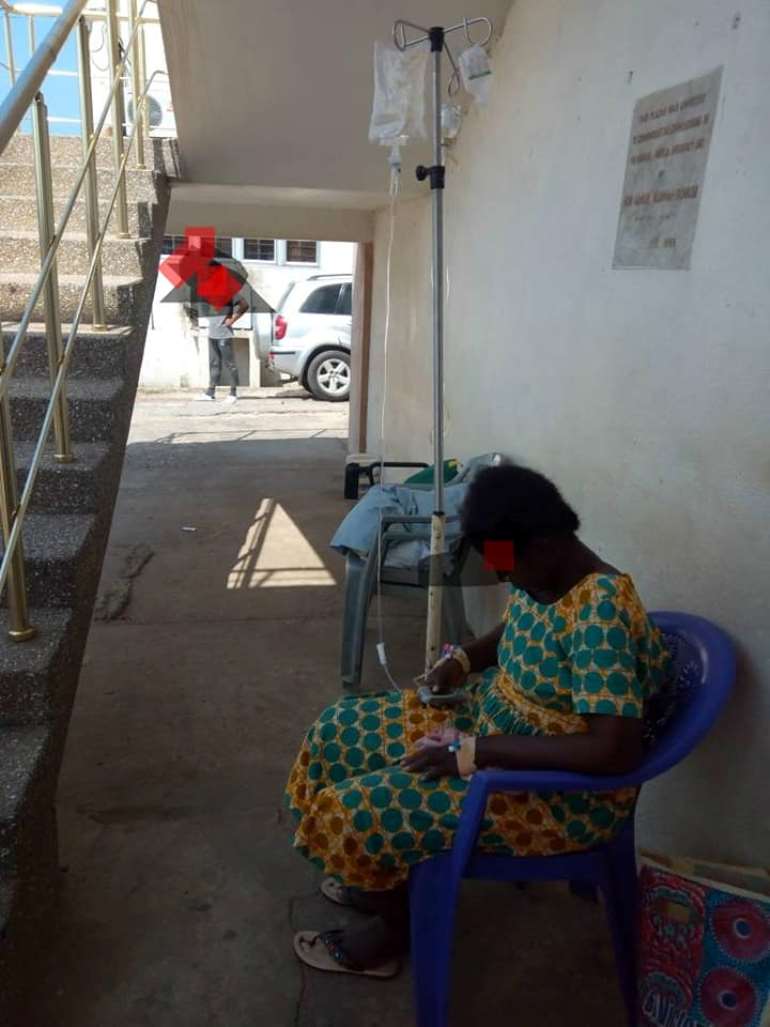 Background
The no-bed syndrome has been in the spotlight after a 70-year-old man, Prince Anthony Opoku-Acheampong, reportedly died in his car at the LEKMA Hospital at Teshie, after seven hospitals turned him away over claims that there were no beds.
The deceased's family started searching for a hospital for him at 11:00 pm on June 2, traveling for about 46 kilometres in total, across the seven hospitals, till he eventually died at around 3:30 am.
The Ghana Health Service Director-General, Dr. Anthony Nsiah-Asare, said the Service was first going to set up an investigative Committee to probe the incident.
The Speaker of Parliament, Professor Mike Oquaye, has also charged the Health Committee as well as the Constitutional, Legal and Parliamentary Affairs, to come up with laws and regulations in the medical field that will deal with the no-bed syndrome at some of the country's health facilities.