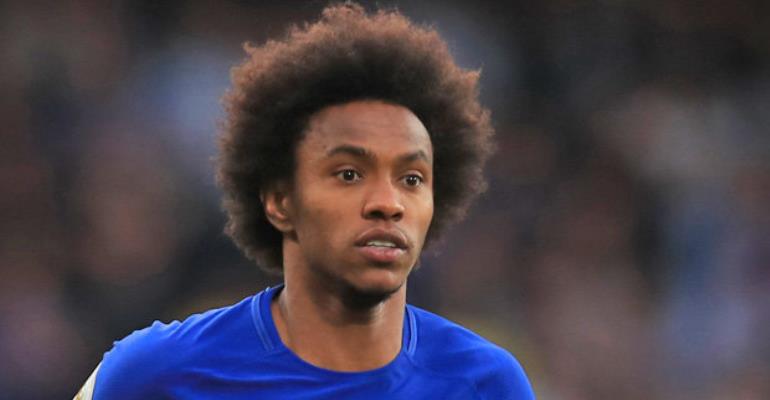 Chelsea boss Maurizio Sarri says he is "very confident" Willian will remain at the club but is less certain about the future of goalkeeper Thibaut Courtois.
Manchester United and Barcelona have been linked with a summer move for Willian, who arrived back late for pre-season training due to apparent passport issues following the World Cup.
Sarri admitted he was unhappy with the Brazil international's delayed arrival but is confident of retaining the winger for the start of the new season.
"I spoke yesterday with him about him being late, but not about his future," said Sarri. "It was a very positive conversation. I am happy about it. There is not a problem with Willian."
When asked if he was confident Willian would remain at Stamford Bridge, Sarri added: "Yes. Very confident."
While Sarri is confident of keeping Willian, the Italian is less sure about Courtois, who has been heavily linked with European champions Real Madrid.
Chelsea have lined up Jordan Pickford, Kasper Schmeichel and Jack Butlandas potential replacements for Courtois should he leave this summer, but Sarri is determined to keep hold of the Belgium international.
"At the moment Courtois is the goalkeeper at Chelsea," said Sarri. "I don't know in the future. It depends on the club, it depends especially on him but I hope Courtois will be our goalkeeper."
Chelsea face Premier League champions Manchester City for the Community Shield on Sunday and Sarri admits his side will be underdogs at Wembley.
"The match will be very difficult for us," he said. "I want to win because it is important to have an immediate trophy.
"But at this moment of the season, the performance is the most important thing. We have to improve of course. I hope to see from my team another step forward."
Sarri added: "I think he [Pep Guardiola] is the best coach in the world right now, or one of the best.
"The match is very difficult for one reason. They have worked together for two years and we started two weeks and a half ago."