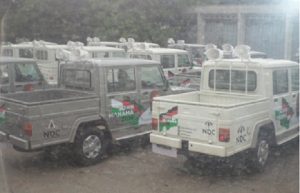 The use of campaign vehicles at Assin Central in Central has sparked controversy as the Electoral Commission (EC) says it will not agree for parties to use the vehicles near the polling stations.
The issue according to Rainbow radio's correspondent Bannerhene has led to a confrontation between the voters and occupants of the vehicle.
According to him, some of the parties brought their campaign posters and later drove their vehicles pass the polling station.
Some of the young people who had queued to vote he noted are wielding clubs threatening to damage any vehicle which will drive to the polling stations in party colours.
He said, the vehicle was branded in a National Democratic Congress's (NDC) posters. The police he added has moved in to resolve the matter.