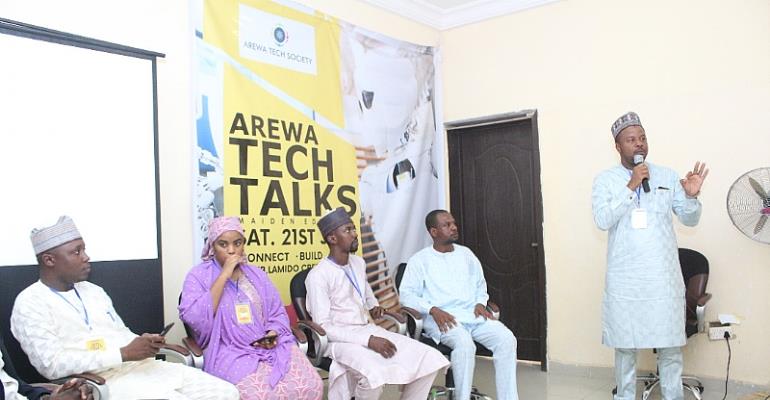 In appreciation of the effort of Arewa Tech Society, organisers of Arewa Tech Talks which held in the 19 Northern states of the federation, including the FCT, the National Information Technology Development Agency (NITDA) has promised to give a helping hand in boosting the idea of using technology for development.
Revealing the plans of the agency at the Kano event which took place simultaneously in all the 19 Northern states and Abuja, the Northwest Regional Head of the agency Malam Abubakar L.S, revealed that the NITDA welcomes such initiative by groups such as Arewa Tech Society.
The Kano event was held at D.I. Hub, Lamido Crescent, Kano, Saturday, 21st July, 2018, with the attendance of many stakeholders from all sections of entrepreneurs, consultants and employees in the area.
Briefing the participants on the many benefits they could drive from the Agency, the regional head assured that, "Our agency will always welcome groupings of this nature. That you understand the importance and relevance of working as a team for the overall development of our society. This is a welcome development."
"At NITDA we provide opportunities for students to go for their second degrees and up to PhD level. Ours is to always provide enabling environment for knowledge-based engagements," he reminded.
He also encouraged them to strive hard and put in place structure that could be the foundation of the new development, "…through which you will excel and become assets for the country and for your individual self," he said.
In his opening remarks, the convener Salihu Tanko Yakasai reveals that, "This idea came up just in the last one or two weeks. We thought that there is a need to establish a successful technology community. We need to talk to one another to have synergy, so that we can develop collectively."
Yakasai said, "There is a need to make ourselves closer. Nothing is impossible, anyway. We came to also realise that the future of technology in the Northern part of the country is huge."
"We want to use technology and solve our problems as a society. We can apply technology and solve problems of health, education, environment, name it. There is less appreciation of the services being rendered by the technology community. Hence there is the need to improve the market," he advises.
According to him, they would do everything humanly possible to look at ways where stakeholders could be engaged, at the public or private sector.
Whereas funding of such efforts could be a bottleneck for successful take-off of the newly initiative, Yakasai believes that with the coming together of the technology community under one umbrella, all perceived difficulties could easily be dealt with.
He further said that, "We want see Arewa Technology in our universities and all other places. There is this strong need for us to come and find areas of improvement as a group with focus."
Amongst the Panelists who discussed areas of their achievements and engagements are Maryam Gwadabe, Chief Executive Officer (CEO) of Bluesaphire, Usman I. Usman CEO of Flexisef, Anas Yazid, CEO of Certis, Inusa Dangana, CEO of D.l. Hub and Sadiq Tanko Yakasai CISCO Engineer from United Kingdom.
They all briefed participants about how they started, grew up and what were their challenges. On his part the CEO of D.I. Hub, Dangana reveals that his company has partnership with both local and global stakeholders.
Gwadabe, said her company started since 2015 and their aim was to build capacity, such as mentorship services, consultancy service amongst others. According to her, they provide capacity building for people from 5 years up to 60 years of age.
Usman of Flexisef said they have more concern in the area of education. "We develop talent through capacity building especially in the area of education. We identify the talent gap, especially among the less privileged ones," he said.
Engineer Yakasai from United Kingdom argued that there was a need to put structure in place, so as to have focus in whatever they wanted to achieve, "… for us to also sustain the energy," he said.
He further warns that, mass movement of the effort with abrupt arrangement would not be fruitful for the overall progress of the initiative. Hence, "…the need for baby-step. Not that of mass movement that can easily go into the thin air," he maintains.
Other participants raised issues of challenges and way forward. Part of the challenges identified were that of digital divide and lack of proper awareness from the part of the public about the importance and necessity of using technology for development.
As a way forward, some of the participants advised for the inclusion of religious leaders to make use of sermons on the importance and necessity of IT in the society. Which also, according to them calls for the integration of businesses with IT.
In his closing remarks, the Convener Yakasai disclosed that more than 150 people registered with the Society in Kano, while over 950 have also been registered across the 19 Northern states and Abuja