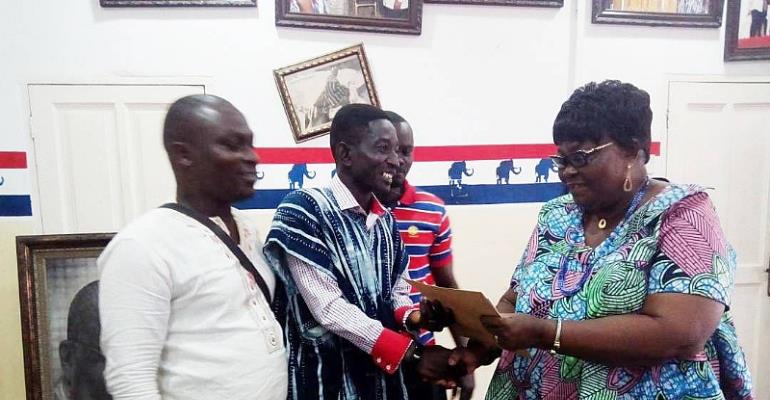 One of the National Organiser Hopefuls in the upcoming National Delegates Congress of the New Patriotic Party Mr. Tweneboa Kodua has picked forms to contest for the position sending strong signals that he is in to win.
The National Organsier hopeful who many thought could not pick the forms due to threats from some youth of the party defied the serious threats through text messages and social media and made his intensions clear.
Dr. TK as he is affectionately called by party foot soldiers said the party belongs to 'every card bearing member and i cannot be suppressed into cowardice by any other human'.
Speaking to journalists after picking the forms, Dr. TK noted that he has come into the race to give hope to the grass root members of the party.
Assuring them that he will be filling it soon, he pledged his commitment to run a clean campaign, win the position and help the party meet the expectation of the grass root members.
"I have been there before, and I am still with them so I know their needs and I know how to get all of them settled because I feel how they feel. I am not someone enjoying luxury but telling them to be patient". He noted.
He thanked Madam Agnes Okudjeto, the official at the Headquaters who issued the forms to them promising to see her again when he comes back to submit the forms.
Dr. TK thanked journalists who have assisted him in getting his message to the grass root base knowing the challenges he faced initially in penetrating the media front.
He said 'I know the contest am in, I know what am gunning for and am very serious about it. Nothing will stop me and nobody can stop me from winning this contest'.
Speaking about the threats from some persons in the party, Dr. TK said he had filed a case at the KNUST Police station in Kumasi, showing evidence of his report made.
style="margin-left:0in; margin-right:0in">
He said he had as evidence, the threats made to him through social media by some persons whom he know but would not name now, leaving everything in the hands of the police CID.
"I had to report to them because I am law abiding and the NPP is also a law abiding one. We will not allow some few selfish and greedy individuals to send their boys to put fear into us". He noted strongly