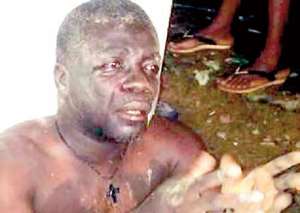 Reverend Kwasi Awiakye, Head Pastor of African Methodist Episcopal (A.M.E) Zion Church, Anyinam District in the Eastern Region, who allegedly attempted to have an affair with someone's wife, has landed himself in trouble.
Rev Awiakye was reportedly caught in the room of a married woman (name withheld) virtually naked in an attempt to sleep with her Wednesday night.
He was subjected to severe beatings by some youth of the area; but he was allegedly saved by some Good Samaritans.
The angry youth arrested and paraded him before the Anyinam Police Station, where he was given a form to seek medication and later granted bail.
The Anyinam District Police Commander, Superintendent Eric Adjei, briefing DAILY GUIDE on the matter, said the woman in question had some problems with her husband, moved out of the house and was staying alone.
She was introduced to the pastor by a friend who claimed he (pastor) could be of help in resolving her marital problems.
According to the Anyinam police chief, the pastor claimed the problems the woman was encountering in her relationship were spiritual and that the only way she could overcome them was for him (pastor) to give her a spiritual bath.
"After the bath, however, the pastor was said to have proposed love to her, a development she found extremely difficult to comprehend, considering the fact that she is married and that the man proposing to her is a pastor," the commander stated.
It was gathered that the pastor kept pestering the woman and Wednesday night she heard a knock on her door and opened it only to be greeted by the pastor.
The woman purportedly let the pastor enter her room.
She reportedly excused herself to call the husband but by the time she returned, the pastor had removed all his attire for 'action' and then tried pouncing on the woman.
Screams by the woman attracted the youth, who rushed into the room and saw the man trying to forcibly have sex with her, but was seized and given some beatings.
He was later sent to the police station upon arrival of the woman's husband and a friend and the case was lodged there.
Thereafter, images of the pastor's alleged escapades in a similar fashion have gone viral in the Atiwa District and on social media.
From Daniel Bampoe, Akyem – Anyiman