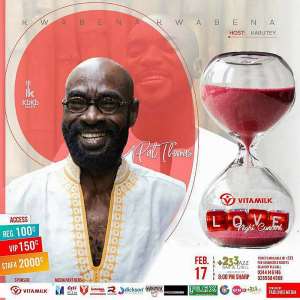 This year's 'Vitamilk Love Night' concert promises to be one of the most dazzling one as Legendary Hi-life musician, Pat Thomas is set to thrill patrons on the night.
Pat Thomas, who is better known as 'The Golden Voice', started his musical career in 1960s when he collaborated with legendary Ebow Taylor.
He took his early inspiration to become a singer from a celebrated vocalist Joss Aikins.
In 1974,Pat formed the band Sweet Beans and with them he recorded his first album 'False Lover.' He recorded his second album with the band called 'Marijata'.
After the Coup in Ghana in 1979,he relocated to Berlin and later settled in Canada— where he toured the world with his Kwashibu Area Band. In June 2015 they released the album 'Pat Thomas and Kwashibu Area Band' to mark 50 years of his musical career.
'Vitamilk Love Night',is an annual event organized by celebrated Contemporary Hi-life Musician Kwabena Kwabena, that gathers couples, love ones, and his cherished fans to a night of bliss, love, drama, resplendent music and dance to celebrate the month of love.
Over 500 couples are going to be hosted on the night, and will experience different kind of love concert in a romantic atmosphere.
Sensational female musicians like Efya,Adina and Asantewaa are going to join the legendary Pat Thomas and Kwabena Kwabena to thrill patrons with electrifying performances.
The much-publicized event is slated for 17th February 2018, at the +233 Jazz bar and grill in Accra