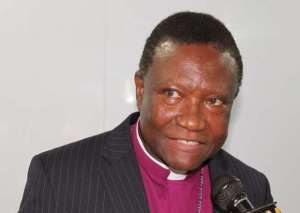 The chairman of the National Peace Council, Reverend Emmanuel Asante, has said it is wrong to hate members of the lesbian, gay, bisexual, or transgender (LGBT) family.
Rev. Asante stressed although their sexual preference is illegal per Ghana's constitution, it does not warrant the sort of barbaric treatment metered out to them.
A recent report by Human Rights Watch said the LGBTs are treated as second-class citizens due to what it termed "colonial-era laws that criminalizes same-sex activity." Human Rights Watch is therefore questioning the retention of section 104 of the Criminal Offences Act since that is thwarting efforts to protect the rights of members of the LGBTI community.
Speaking on Morning Starr on Thursday, January 11, 2018, Rev. Asante condemned discrimination and abuse of LGBTs.
"Love homosexuals but hate homosexuality," the Peace Council chairman told host Francis Abban.
The man of God believes we cannot hate LGBTs and at the same time seek to change them.
"I believe they can be helped psychologically. We shouldn't look at them as enemies or beasts. They have rights and are human beings. It's illegal and we can't condone it but we can help them," Rev. Asante preached.
However, he warned the government to be mindful of attempts by LGBTs to influence donors to put pressure on it to relax rules against them.
"I'll urge the government not to give in to international pressure of things that will bring in things of this nature. The religious bodies should strengthen their evangelism," Rev. Asante added.
Dozens of LGBT people have been attacked by mobs or by members of their own families, Human Rights Watch reported. In August 2015, in Nima, a town in the Accra region, members of Safety Empire, a vigilante group, brutally assaulted a young man they suspected was gay. In May 2016, in a village outside Kumasi in the Ashanti region, the mother of a young woman organized a mob to beat up her daughter and another woman because she suspected they were lesbians and in a same-sex relationship. The two young women were forced to flee the village.