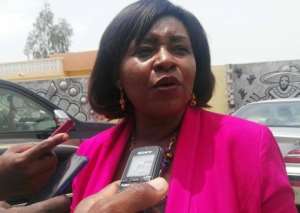 The Food and Drugs Authority (FDA) is adopting the use of pictorial health warnings to depict the harmful effects of tobacco substances on the health of users.
The measure, is part of a new educational campaign strategy to reach out to illiterate tobacco smokers and the goal is to reduce the disparities in the health knowledge gap on tobacco use in the Country.
Mrs Olivia Agyekumwaa Boateng, Head of Tobacco and Substance Abuse Department of FDA, said the campaign, which would begin in October this year, is a further step to motivate smokers to quit, discourage non-smokers from going into the hard-to-break habit and to keep ex-smokers from slipping back into smoking.
Addressing a stakeholders' meeting in Kumasi, she said the pictures, which would be accompanied with a text in English language, would be boldly displayed on the front and back of containers of all tobacco products.
The pictorial health warnings, have been adopted and is being implemented in some African countries such as Burkina Faso, Chad, Djibouti, Egypt, Kenya, Madagascar, Namibia, and Senegal.
Tobacco is mostly available and used in dried and natural forms, which is often smoked in a form of cigar, cigarette as well as water-pipe (shisha).
It can also be chewed, dipped or sniffed into the nose in a refined powdered snuff (Asra), in local parlance.
Nicotine is the highly addictive ingredient found in tobacco.
It contains a lot of gases and toxic substances that have negative health effects on the body causing various diseases such as heart, lung and different type of cancers.
Mrs. Boateng, said the smoking of shisha, which has in recent times become very popular among the youth, was damaging, addictive, toxic and as dangerous as cigarettes and is could cause similar health problems as other combusted tobacco products did.
'In fact, a habitual shisha smoker, breathe in much more poisonous fumes during an hour-long session than a typical cigarette smoker inhales in a few days', she pointed out.
Mrs. Nora Tei-Larbi, the Ashanti Regional Director, FDA, said the Authority had endorsed the use of only 50 and 100mg of tramadol, a widely-abused addictive drug, in the Country.
It was therefore making relentless efforts to prevent the importation of unregistered doses of tramadol into the Country, adding that, the Authority was working hard to reduce drug abuse and addiction in the Country.