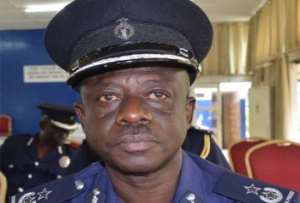 Kumasi, July 18, GNA – The Ashanti Regional Police Command is yet to identify the seven alleged robbers gunned down by the police in a shootout at Poano, in the Amansie -West District on Tuesday.
Deputy Commissioner of Police (DCOP) Kwesi Mensah Duku, the Regional Police Commander, who made this known at a media briefing on the incident in Kumasi, said his outfit had launched a full-scale investigation into the matter to establish the identities of the robbers.
He said a team of policemen from the Regional Command, acting on intelligence, embarked on an operation to foil a robbery attack in the Amansie West area, following a similar attack that claimed the life of a police officer, Lance Corporal Daniel Tieku on July 12.
He explained that the deceased officer and another colleague, Lance Corporal Eric Nsiah, who were on an operational duty in the area were on board a sprinter bus with registration number AC 644-15, together with other passengers, when eight armed men attacked the bus.
DCOP Duku said the robbers, who were dressed like military men and armed with AK 47 riffles, attacked the bus at a spot between Ayirebikrom and Agoroyesum.
'In the process, the two policemen as well as the driver, Silas Kwame Kusi and other passengers sustained serious gunshot wounds and were rushed to the St. Martins Hospital at Agoroyesum', he stated.
He said they were treated and discharged but Lance Corporal Tieku died on admission the next day.
According to the Regional Commander, the police on July 17, as part of effort to improve security, deployed men to the area between Anwia-Nkwanta and Manso-Nkwanta.
He said on reaching Poano, a Toyota Corolla with registration number BA 294-15 and an unregistered motorbike appeared driving towards Manso-Nkwanta and were signalled to stop but they ignored and started firing at the police.
The police, he stated, also returned fire and the seven unknown suspected robbers, whose names were yet to be ascertained died in the exchange.
DCOP Duku said the Toyota Corolla, the motorbike, together with two pump action guns, one AK 47 assault rifle, two locally-made pistols and four mobile phones were retrieved and brought to the Regional Command as exhibits.
He said the bodies of the suspected robbers had been deposited at the Komfo Anokye Teaching Hospital Morgue for identification and autopsy.
In a related development, the Municipal Chief Executive for Asokore Mampong, Mr. Alidu Seidu has called on the police to conduct an in-depth investigation into the case following claims by families of three of the alleged deceased robbers that, their relatives were not armed robbers.
Mr. Seidu, speaking to newsmen later, underscored the need to get to the bottom of the matter to ascertain the innocence or otherwise of the three deceased suspects.
He urged the family and youth in the community to remain calm, saying that, he would keenly follow the case until it is brought to its logical conclusion.