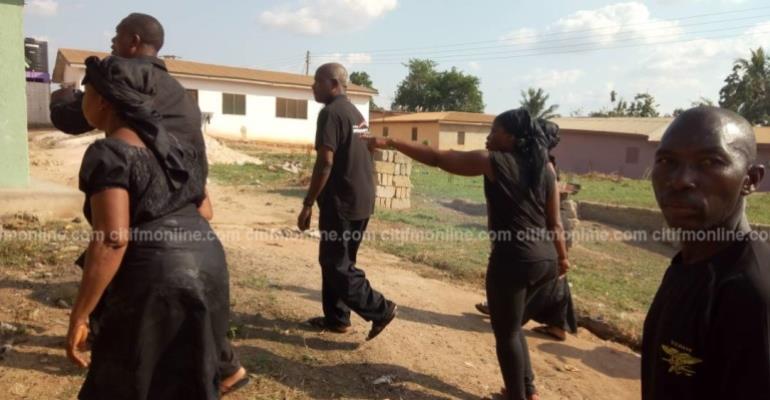 The Ashanti Regional Police Command has said the 25-year-old who was shot and killed by a police officer at Kenyasi-Bosore in the Kwabre East District of the Ashanti Region was part of some rampaging youth in the area who attacked the officer on duty.
According to a police statement, the deceased was shot after he drew a gun and pointed it at the officer.
The police released the statement detailing the sequence of events that led to the shooting after the family of Derrick Osei Frimpong demanded justice and called on them to investigate the shooting of their son by a police officer.
The family asked the regional police command to investigate the circumstances that led to the death of the deceased.
The Command, in the statement, said the police officer stationed at the Regional headquarters was attacked while on lawful duty at the Dumgya Komfo's shrine at Bosore.
The statement indicated that the police officer had intervened to maintain order after about 12 men went to the shrine to attack another man.
The officer, in the ensuing melee, seized a bag from one Musah Adams who was part of the mob.
A search in the backpack revealed 7 sachets of substances suspected to be Indian hemp, a screwdriver, 'shisha', a Techno Mobile phone and a pair of sandals.
The statement added that the actions of the officer infuriated the attackers who tried to disarm him.
According to the statement, the police officer, sensing that his life was in immediate danger fired a warning shot to disperse the crowd massing up around him.
The attackers who were agitated by the gunshot tried to snatch the officer's A.K 47 assault rifle and pelted stones at him.
The police added that the deceased, Osei Frimpong, drew a locally made pistol and pointed it at the policeman, prompting the officer to shoot him.
He was pronounced dead after he was rushed to the Komfo Anokye Teaching Hospital (KATH).
Twelve other suspects who were arrested in the process have since been granted bail.
–
By: Hafiz Tijani/citifmonline.com/Ghana
The post 25-yr-old was killed for attacking our officer – Police appeared first on Ghana News