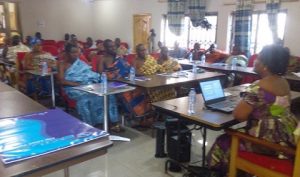 The Chief of Kyeremansi, near Nkoranza in the Brong Ahafo Region, Nana Wereko-Apem Forkuo, says the rights of people in mining communities must not be sacrificed for the interests and profits of mining companies.
In an interview with the Daily Graphic after a two-day workshop at Nkoranza in the Brong Ahafo Region on ECOWAS protocols on mining, Nana Forkuo said chiefs and other opinion leaders should not allow any mining company to trample on the rights of the people.
"Following revelations we have seen from video clips from WACAM, we will, together with other opinion leaders, not allow any mining company to trample on the rights of people in the Nkoranza Traditional Area."
Nana Forkuo reminded all traditional rulers that they were only serving as caretakers of the lands under their jurisdiction but were not owners.
He, therefore, urged them to involve members of the community in the decision-making process, especially when it comes to mining contracts.
Nana Forkuo entreated his fellow chiefs to be associated only with mining agreements that would impact positively on their communities.
Support district factories
Touching on partnerships between traditional authorities and government in creating jobs for the teeming youth, Nana Forkuo said the traditional councils must support the government and release lands for the implementation of the proposed one-district one-factory project.
He added that chiefs were ready to support the government to address the problem of unemployment.
WACAM and workshop
The Associate Executive Director of WACAM, a non-governmental organisation, Madam Hannah Owusu-Koranteng, urged chiefs and opinion leaders in mining communities to help protect the rights of the people and their lands from irresponsible mining companies.
The workshop was attended by chiefs, assembly members and opinion leaders. They deliberated on ways by which traditional rulers and other opinion leaders could help apply the ECOWAS protocols on mining in their communities to reduce or eliminate the negative impact of mining.
ECOWAS directives
The ECOWAS Directives for Mining Communities are targeted at instituting mechanisms for monitoring and evaluating the impact of mining activities on citizens of states in West Africa.
WACAM, with the support of Open Society for West Africa (OSIWA), is empowering community leaders in the fight against irresponsible mining activities in host communities.
Among the violation of human rights in mining communities are the destruction of livelihoods and economic activities, pollution of water bodies, destruction of farmland, farm produce and the forest.