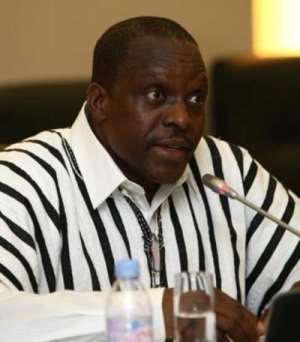 The Second Deputy Speaker of Parliament , Mr Alban Sumana Bagbin has thrown his support for electoral reforms to get more women into Parliament .
He said women in the country are culturally disadvantaged and many of them could not also subject themselves to the rough politics associated with political elections in the country and therefore needed support.
Mr Bagbin was speaking at the Parliamentary Constituency Forum in the Akuapem South Constituency at Aburi, organised on the theme 'Deepening citizen's engagement for better understanding of the legislature.'
Mr Bagbin said Parliament had recently approved a loan facility secured by government for the upgrading of the Tetteh Quarshie Memorial Hospital to be a referral hospital with plans for its future development into a teaching hospital.
He said he had been talking with the chairman of the Board of Directors of COCOBOD for funding for the rehabilitation of facilities at the reception centre of the Tetteh Quarshie Cocoa farm.
Mr Bagbin defended the need for constituencies to support their Members of Parliament (MPs) who were doing well in Parliament and their constituencies for them to serve them for longer years in Parliament.
He explained that when an MP stayed longer in Parliament, apart from mastering the parliamentary procedure and helping Parliament to make better laws, those MPs also established the necessary contacts and network to attract more support for their constituencies.
The Minority Leader of Parliament, Mr Haruna Iddrisu called on the public to participate in the Parliamentary procedure by sending memoranda to the Speaker of Parliament and observed that one of the weakness of the Ghanaian Parliament was the by-partisan nature of Parliament.
He explained that the purpose of the forum was to bring Parliament closer to the people to enable them appreciate their work.
Mr Kwesi Ameyaw Kyeremeh, Majority Chief Whip called on the public to use the parliamentary channels created for them to help enrich the laws passed by parliament and explained that people's participation in the legislative process was important because wisdom does not rest in the heads of few people.
Mr Kyeremeh explained that to get more women into Parliament, there was the need for the political parties to agree to reserve parliamentary seats in their safe constituencies for women in their parties.
Ms Comfort Doyoo Ganza, Vice Chairperson of the Parliamentary Women Caucus said out of the 275 MPs, only 37 are women and appealed to the electorate to help get more women to Parliament.
Mr O. B. Amoah, MP for Akuapem South said government had sought a loan for the rehabilitation of the Kwabenya-Brekuso-Kitase road.
He said the Minister of Roads and Highways had inspected the Aburi-Nsawam road and promised to have ramps constructed at the appropriate places to help reduce speeding to protect pedestrians.
Mr Amoah said he was discussing with the Akuapem South District Assembly for the repair of all the broken down street lights in the constituency.
GNA