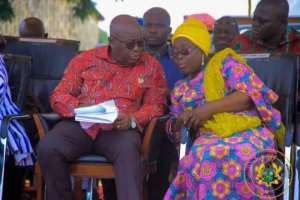 Nalerigu, (NR), July 22, GNA- President Nana Addo Dankwa Akufo-Addo has directed the Electoral Commission (EC) to organise Referendum this year for the creation of proposed six new regions.
The President announced this at the weekend at Nalerigu during a durbar of chiefs and people of the Mamprugu Traditional area as part of his three-day tour of the Northern Region.
He said there were substantial demand for the creation of new regions when he assumed office, which he referred such demands to the Council of State to look into.
He mentioned the proposed regions as Western North to be curved out of the Western region, Bono East and Ahafo to be created out of the Brong Ahafo region, North East and Savannah as well as the Oti region be separated from the Northern and the Volta regions.
"Last Thursday before I left Accra to begin the Northern tour, I wrote a letter to the Electoral Commission (EC) asking them to organise Referendum this year according to the recommendation of the Brobbey Commission in the affected areas to determine whether the people really support the creation of the proposed regions", he said.
He hoped that the EC would be able to organise the Referendum as soon as possible so that by December this year the process of creating the proposed regions would be completed.
The President, however, indicated that before the regions would be created, 50 per cent of eligible voters in the affected areas must turn out to vote, which 80 per cent of the 50 per cent turn out must vote yes.
He said the creation of new regions would improve the quality of governance in the country and would bring governance closer to the people for socio-economic development.
Na Bohagu Mahami Sheriga, the King of the Mamprugu Traditional Area commended the President for the vision to create the North East Region, which would improve local governance in the country.
He said the government's social intervention projects such as the planting for food and Jobs, the one district, one dam, the free Senior High School programme among others within the first year of the government was commendable.
He said the East Mamprusi district had a lot iron ore deposits that must be explored through the one district one factory policy to extract the minerals to give the country more revenue.
Na Sheriga appealed to President Akufo-Addo to also embark on infrastructural improvement especially roads and educational projects for the area to befit its status.
The President also made whistle stops at Bunkprugu, Yunyoo, Nankpanduri and Nabia where he assured the people of his vision of transforming the country.
GNA
By Caesar Abagali, GNA