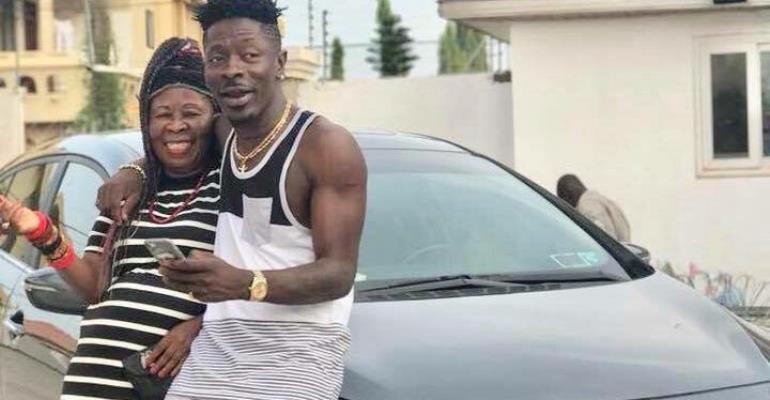 Mother of celebrated dancehall artiste, Charles Nii Armah, known in Showbiz as Shatta Wale has recounted the agony she went through before given birth to Shatta Wale.
Shatta Wale's mother, Elsie Evelyn Avemegah who was seen sitting in her son's studio lambasting the 'doom' prophets causing fear and panic in the life of her son and his followers in live Facebook video, recalled how she carried Shatta Wale in her womb for 13months.
Speaking in a telephone conversation with Razzonline.com in line with why it took her 13months instead of the normal 9months being the stipulated months to deliver a baby,Shatta Wale's mother accentuated sorrowfully that:
"Shatta Wale was ordained by God to be great…all the prophesies about his death are false…he is special; that's why it took me 13months instead of the normal 9months for delivery".
She Continued,"My sister in-law accused me of lying about the pregnancy …meanwhile all the hospitals I visited showed that I was truly pregnant…but I was not conceiving…I really went through pains".
The most passionate part of the interview is when Shatta Wale's Mother recounted to Razzonline.com how nurses at Police hospital angrily neglected her at the time she was in labour:
"It got to a time that everybody neglected me…one shocking thing was how the nurses taking care of me at the Police hospital got angry and neglected me while I was in labour…so delivered Shatta Wale myself…I can recall how I was lying at de labour ward praying to God for his divine intention and finally at 9am Sunday morning I gracefully delivered Junior (Shatta Wale)
"So the doctor heard a baby crying, to the doctor's chagrin I had delivered and that was my baby crying, he got angry at the nurses asking them why they neglected me…so that's one of the mysteries behind the birth of Junior",She Opined to Razzonline.com
Elsie Evelyn Avemegah who hails from the Anlo tribe in the Volta region cautioned fake prophets to stop prophesying doom for his son.