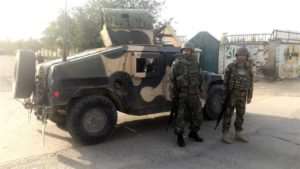 A suicide bomber has detonated his explosives at the gate of government building in the Afghan capital, Kabul, killing at least seven people, according to police.
More than 15 others were wounded in Sunday's attack, which occurred during the evening rush hour as employees were leaving the Ministry of Rural Rehabilitation and Development (MRRD).
Hashmat Stanekzai, Kabul police spokesman, said those killed in the attack were staff members of the MRRD.
There was no immediate claim of responsibility.
The ministry was also targeted just over a month ago in a suicide bomb attack that killed at least 13 people and wounded 31 others.
According to figures released on Sunday by the UN Assistance Mission in Afghanistan (UNAMA), 1,692 civilians were killed during the first six months of 2018 – the most recorded in the period over the last decade since the agency began documentation.
In less than two weeks, three separate attacks in Nangarhar province's capital Jalalabad have killed at least 41 people, with the latest one on July 11 targeting an office of the education department.
Source: aljazeera.com