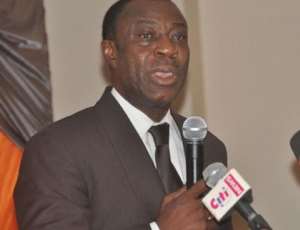 THE MEMBER of Parliament (MP) for Tafo Pankrono, Dr. Anthony Akoto Osei, is brimming with rage over the near-attack on his life.
He has consequently asked the police to thoroughly investigate and arrest all the thugs that attempted to attack him on Sunday.
According to him, Ghana is governed by laws, therefore nobody or group can take the laws into their hands by attacking innocent people.
The Tafo MP said he is confident that his alleged attackers would be identified and arrested to face the laws of the state.
"We are expecting the police to investigate and also apprehend all the culprits who took part in the violent action last Sunday. This country is governed by law; it is not a jungle therefore such weird acts of attacking people at will should not be tolerated," J.K. Owusu Boakye, an aide to the MP, stated during an interview with Nhyira FM in Kumasi on Monday morning.
Members of the Delta Force, a vigilante group in the New Patriotic Party (NPP) are alleged to have attempted to attack Dr. Akoto Osei.
The group accused Dr. Akoto Osei of not keeping his promise of finding jobs for them after serving the NPP to win the 2016 election.
But in a sharp reaction, Owusu Boakye aka 'General Abito' stated that it is never true that his boss promised to find jobs for the group.
He asserted that Dr. Akoto Osei had done no wrong to warrant an attack on his life, insisting that the culprits should be apprehended.
According to him, the Tafo Pankrono MP is a perfect gentleman, who has faithfully served his constituents well over the years.
General Abito also suspected that some hidden faces may be behind the near-attack on the life of his boss, stressing that the police should investigate the case.
He disclosed that the MP had helped in promoting education and securing jobs for people so the attack on his life is unfortunate