---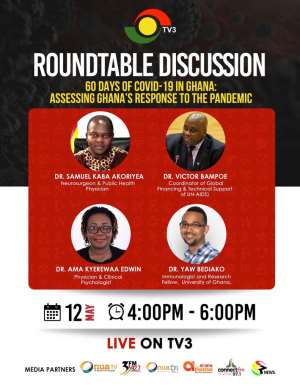 On 12th March, 2020, Ghana's Minister of Health Hon. Kwaku Agyeman-Manu announced at a press conference that Ghana had confirmed its first two cases of the Novel Coronavirus; both cases, he noted, were imported.
Since then there have been several measures taken by the government to manage the virus, including ban on social gathering, partial lockdown, enhanced testing, contract tracing, stimulus packages, public education on protocols and compulsory wearing of masks.
In all this, how effectively has Ghana managed the COVID-19 pandemic during this period? TV3, your number one TV channel for news and news analyses will be seeking the views of experts exactly 60 days since that announcement was made at a roundtable discussion on Tuesday May 12, 2020 at 4PM.
Confirmed panelists include Dr. Samuel Kaba Akoriyea, Neurosurgeon and Public Health Physician, Dr. Victor Bampoe, Coordinator of Global Financing and Technical Support of UN – AIDS, Dr. Ama Kyerewaa Edwin, Physician and Clinical Psychologist and Dr. Yaw Bediako, Immunologist and Research Fellow at University of Ghana.
Tune into TV3 from 4pm and be part of this very important roundtable discussion. Also watch live on the 3FM92.7 page on Facebook.