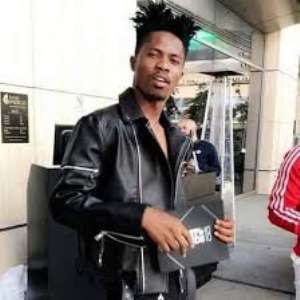 Out of a million things, Kwesi Arthur has to celebrate through his life's journey so far, the Tema rapper keeps celebrating God recently.
He has managed to groom himself and grow into an image of young people in the society can look up to. Young King Arthur upon his return from the prestigious BET awards hosted in Los Angeles visited the Tema Community 9 Pentecost Church for a thanksgiving service.
He made the trip with his family to give reverence to the Almighty.
"Two years ago it wasn't easy. It was really difficult for me and my family to find something little to buy food…But now, by the grace of the Almighty God, everything is calm in my path," said the young rapper to the congregation.
He then performed his latest hit single "Woara" with the entire church. People showed him massive love and even the elderly women in the church grooved to his performance.
Kwesi has come a long way from Tema to the mainstream success and now that he's here, he is creating waves with back to back singles and collaborations.
He won the hip-hop song of the year in the 2018 Vodafone Music Awards and had a nomination in the Viewer's Choice Category at Black Entertainment Television Awards (BETs).