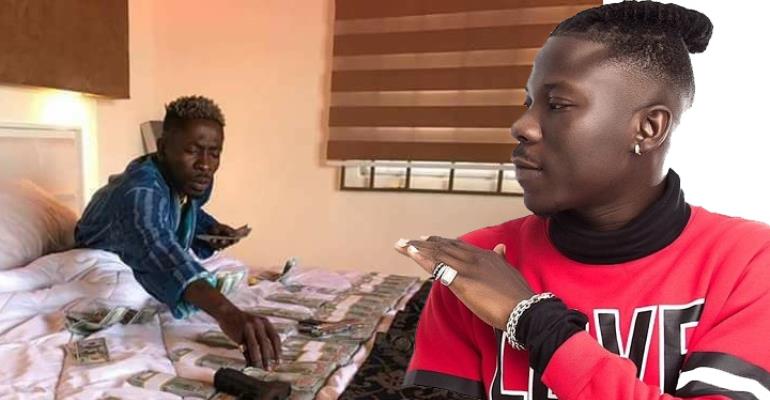 Displaying money ostentatiously on social is one thing I don't think any sensible person like Stonebwoy will do just to provoke his opponents or to motivate his fans as Shatta Wale claims.
I just woke up a beautiful morning just to just to find impolitic parading of money on social media by self-acclaimed dancehall king shatta Wale. After watching the video, a lot of questions advanced in my brains that made it very hazy and my thinking capabilities halted for about a minute. One question I am still waiting for the answers is whether Shatta Wale is normal or whether he is getting out of his mind.
The most nauseating part of all is when Shatta Wale's fans tried to poke fun on Stonewboy about the Dollars their act displayed. These act from his fans shows that most of his fans behave like their master.
My keen argument is that showing off your wealth is something which is very dangerous and for that matter, it can attract enemies to oneself. Since putting money on show is common to some musicians it takes only the sensible ones to refrain from these acts.
Government of Ghana should start taxing these musicians who publicly flaunt money and use this money for developments for the music industry.
The music industry needs money for it to survive so if Shatta Wale thinks he gets money it is better for him to walk to any of the MUSIGA offices and drop some dollars so that MUSIGA can use the money for some developments in the music industry rather than showing it on live camera on social media.
In my conclusion Shatta Wale should find something better doing with his money and stop that childish behaviour by showing it on social media.
Thank you.
Written by : Komfa Ishmael Ofori
Watsapp: 0243510505
Facebook: Komfa Ishmael