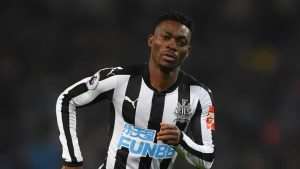 Christian Atsu has reiterated that he is eyeing the first victory of the season for the Magpies lads in the English Premier League.
Struggling Jose Mourinho will welcome the Magpies to the Old Trafford on Saturday in the eight-week clash.
And despite Newcastle's shaky start, Atsu is adamant they can secure their first win tomorrow.
"I want to be involved in every game – whether it's Man United or Leicester," Atsu told the Chronicle.
"We know it will be a tough game for both teams.
"They are struggling too and so are we.
"We have to stick together.
"We can't lose our heads and the big teams don't get beaten three or four times in a row.
"We have to change things ourselves."
Atsu, 26, has made only five appearances for Newcastle United so far this season in all competitions.