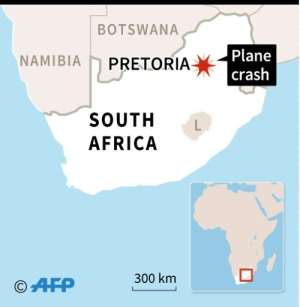 Nineteen people were injured when a plane crashed on Tuesday in a grassy area of the South African capital Pretoria, emergency services said, giving a preliminary toll.
Images from the site showed the plane broken into several pieces as paramedics helped survivors out of the aircraft and treated patients at the scene as firefighters tackled smoking wreckage.
"Medics from ER24 and other services are at the scene of a plane crash at Wonderboom in Pretoria," Russell Meiring, spokesman for the ER24 medical service said.
"We have 19 injured casualties ranging from minor to critical injuries at this stage and no confirmed fatalities."
The plane was marked Martin's Air Charter, but no information was immediately available about the air company.
"I can only confirm that yes we do have a plane that crashed… on the Moloto Road," local government emergency services spokesman Johan Pieterse told AFP.