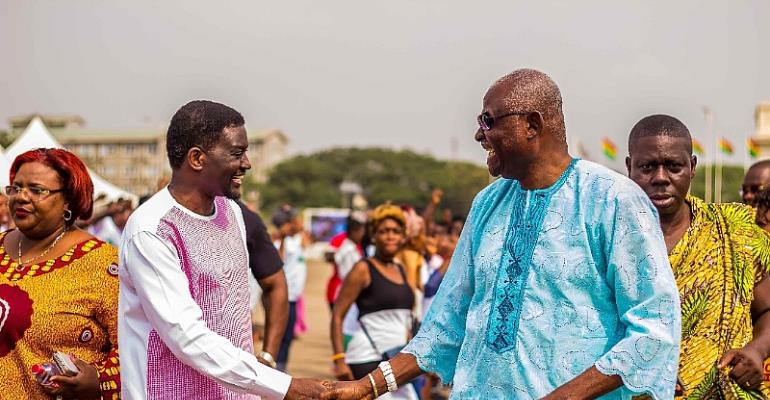 Most Reverend Dr. Charles Agyin Asare, the founder of Perez Chapel International, one of the renowned charismatic churches in the country, has paid a courtesy call on the Osu Mantse, His Majesty Nii Okwei Kinka Dowouna VI, at the Osu Palace in Accra.
The visit was to inform the Osu Mantse and the Traditional Council of the Church's Festival of Miracles scheduled for 30 January to 2 February at the Independence Square in Accra as well as to officially invite the Osu Mantse and the Traditional Council to the program.
As part of the Church's preparations towards the Festival of Miracles, the Church on Saturday, 27 January 2018, organized a free medical screening program and party for the less-privileged at the Independence Square which was graced by the Osu Mantse, and the members of the Osu Traditional Council.
The program offered thousands of the less-privileged the opportunity to access free medical screening for hemorrhoids (Kokoo), breast and prostate cancers as well dental, eye and general checkups.
In his address, Most Reverend Dr. Agyin Asare, pledged to personally offer a full scholarships to four brilliant but needy students within the Osu locality as part of his personal support towards the Osu Mantse's aim at ensuring that every child in Osu has good and adequate education.
According to the man of God, he will engage the church in a stakeholders meeting on the way forward to support the laudable Osu Educational Fund initiated by his Majesty the Osu Mantse, Nii Okwei Kinka Dowouna IV.
It would be recalled that during the 2016 Homowo Festival, the Osu Mantse launched the "Osu Mantse Educational Fund" which was aimed at assisting Osu children in their education.
It will also ensure that school children within Osu who excel in their Basic Education Certificate Examination (BECE) would be offered scholarships to further their education.
On his part, the Osu Mantse Nii Okwei Kinka Dowouna VI appealed to individuals and corporate bodies to support the Education Fund to enhance teaching and learning in the area.
The Chief, who doubles as the President of the Greater Accra Regional House of Chiefs, further expressed his gratitude and that of the Osu people to the Most Reverend Dr. Charles Agyin Asare, and his entourage for the visit and kind gesture to the people of Osu.