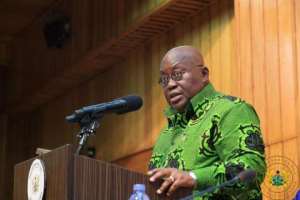 President Nana Addo Dankwa Akufo-Addo has charged governing boards of public institutions to be more creative and take bold decisions to enhance the quality of public service.
The performance of the government tended to be largely measured by the quality of service rendered by the service and that was why poor performance could not be allowed to continue.
The President said this in an a speech read on his behalf by Mr. Yaw Osafo-Maafo, the Senior Minister, at the ninth annual conference of chief directors, chief executives and chairpersons of public boards and councils, in Koforidua.
The four-day meeting is being held under the theme 'Change management, innovation and creativity for value added service delivery'.
President Akufo-Addo said the public service of today was required to manage rapid policy changes with shorter time deadlines.
It should also focus on good customer service, ensure high standard of performance and accountability.
He announced that a new Public Service Reform Strategy aimed to bring efficiency and raise the quality of service delivery to the people and the private sector was going to be launched.
This would align the service with the 'Ghana beyond aid' vision, he added.
Mrs. Janet Ampadu Fofie, Chairperson of the Public Services Commission, said the conference was meant to provide a platform for top public servants to meet and exchange ideas on contemporary issues relating to public administration practices and how to improve productivity, enhance performance and maintain high standards of service delivery.
The forum also offered the opportunity for the President to meet and share the vision of his government with the governing boards and chief executives, he had appointed.
She reminded the participants, as top public servants, to be innovative – change the old ways of doing things to help propel the public service to new heights.
Professor Stephen Adae, former Head of the Ghana Institute of Management and Public Administration (GIMPA), who chaired the opening ceremony, said the common determinant that had guided the development of all successful nations over the last 120 years, was the quality of their political leadership and the Heads of their public service.
He added that there was corruption in those nations but 'at very low levels'. GNA