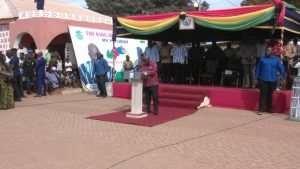 The Electoral Commission (EC) will hold a referendum this year ending to determine the creation of the proposed new regions as recommended by the Brobbey Commission of Inquiry.
President Nana Addo Dankwa Akufo Ado said he formally wrote to the EC to conduct the exercise before Christmas.
He said this when he addressed a Durbar at the forecourt of the overlord of Mamprugu land in Nalerigu.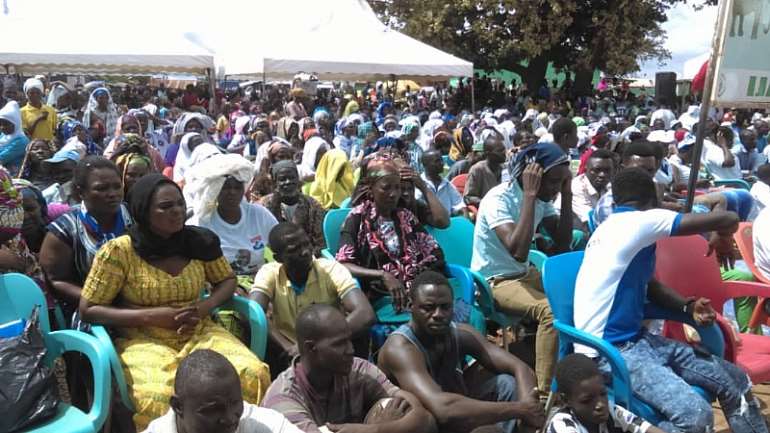 He entreated citizens of the proposed new regions to actively participate in the upcoming referendum saying, "I have done my part, the rest is up to you. And I say that because the constitution says that 50% of all those who are registered and entitled to vote in the areas affected have to turn out to vote on the day set by the Electoral Commission and of that 80% must cast their votes for Yes before the region can become a reality."
"So if indeed, the people of Mamprugu want the North East Region, Kukurumoti, it is the thumb that will decide for you but I am very hopeful and expect that we will get a very massive Yes votes."
President Nana Addo explained that his administration's intention to create new regions is nothing new.
"At the beginning of the last century, in colonial times, we had three regions in Ghana. The Northern Territories, the Ashanti Protectorate and the Gold Coast Crown colony. Just before Independence, the Gold Coast Crown colony was divided into Eastern and Western Regions and subsequently in 1956, the Trans-Volta Togo land referendum was held which brought Trans-Volta Togo land into the regions of Ghana."
"In each time, the creation was in order to bring governance closer to the people. So independence, we had five regions and shortly after Independence, the Brong Ahafo was created by Kwame Nkrumah's CPP government out of Ashanti region and then in 1960 the Central region was created out of the Western region and subsequently the Greater Accra region was created out of the Eastern Region. And then the beginning of the government of the PNDC under his Excellency Jerry John Rawlings, the Upper East, and Upper West regions were created to bring the numbers to 10."
He added that "We are now 30 years and hopefully we're going to add six more regions to make it 16 regions in the country."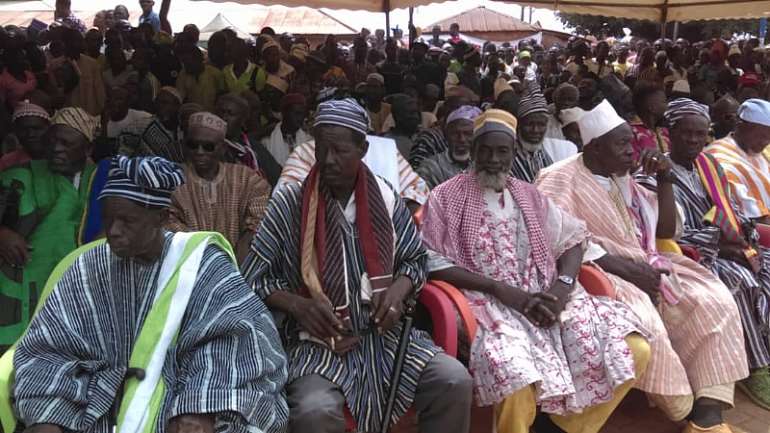 The Member of Parliament for Gambaga/Nalerigu constituency, Hajia Alima Mahama on behalf of the chiefs and people of Mamprugu land showed appreciation for the construction of major town roads in the area.
According to her, the implementation of the government's flagship programmes is progressively improving the people's well-being.
The Local Government and Rural Development Minister said, "government is working on projects such as the rural water system to improve the water situation in East and West Mamprusi districts. The towns will have overhead tanks and all the underground pipes will be changed to allow the free flow of water into various households."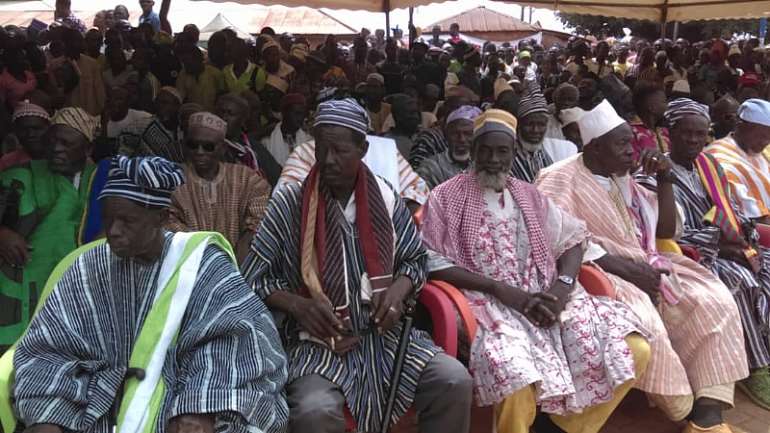 "Also the One Village One Dam programme is being implemented in the area. Communities such as Nagboo and other adjoining communities have started the construction of their dams."
President Nana Addo on a working visit to the Northern Region cutting sod for the construction of new projects and inaugurating completed ones."