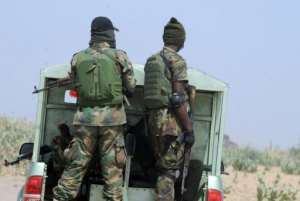 YAOUNDE, Oct. 05, (Xinhua) – The Cameroonian army told observer missions on Thursday that it had taken necessary security measures to ensure the presidential poll on Sunday unfolds without hitches in the restive English-speaking regions of Southwest and Northwest.
"The army will provide security for accredited election observers. We will accompany them to the regions to ensure their security," Col. Ze Onguene told a briefing for national and international election observers three days before the balloting.
However, he warned that armed separatist forces were determined to disrupt voting in the regions.
"After the failure of 'Ambazonia' independence, they are now determined to stop election from taking place in the regions, Onguene said.
According to the Cameroonian electoral body, Elections Cameroon (Elecam), six diplomatic missions and 11 international organisations have been accredited to observe the presidential poll in the country.
Over 6,500,000 registered voters are expected to vote on Sunday, Elecam officials said.
Since November, last year, government forces have been clashing with armed separatist forces who want the two regions to secede from the majority French-speaking nation and form a new country called "Ambazonia".
Over 180,000 people have been displaced by the conflict internally and at least 30,000 others are seeking refuge in Nigeria, according to the United Nations.