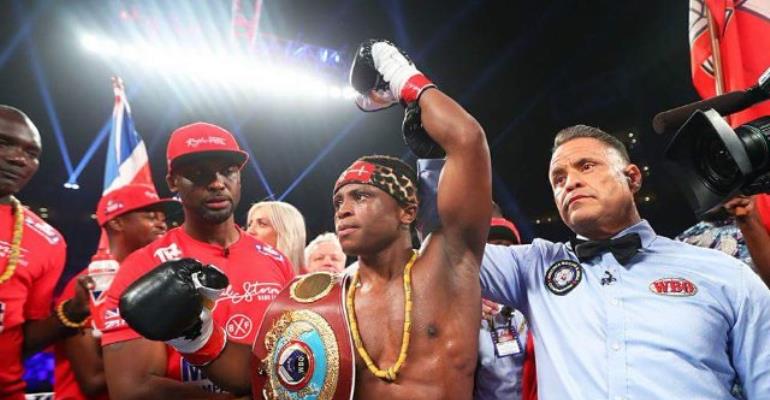 Ghana's WBO world super bantamweight champion, Isaac "Royal Storm" Dogboe, is billed to defend his strap against Mexican fighter, Emanuel Navarrete at the Madison Square Gardens in New York on December 8.
The camp of Dogboe have remained tight-lipped on the next opponent but Graphic Sports Online's investigations can confirm that the 24-year-old Ghanaian world champions has landed another opportunity to defend his belt against the Mexican opponent.
Team Dogboe are scheduled to hold a press conference on Friday at which the opponent would be disclosed which definitely would be the 23-year-old Mexican with an impressive ring record.
The fight is expected to be on the Vasyl Lomachenko-Jose Pedraza December 8 card which would be the Ghanaian's return for the first time in four months since destroying Japan's Hidenori Otake in the first round on August 25 in Glandale, Arizona.
The Ghanaian has been in splendid form since knocking out Cesar Juarez in January 2018 to win the WBO interim super bantamweight title at the Bukom Boxing Arena before going on to snatch the world title with an emphatic eleventh round victory over Jessie Magdaleno in April in Philadephia.
Though undefeated, Dogboe (20-0, 14 KOs) is on a five-winning knockout streak which includes win over Julian Evaristo Aristule, Javier Nicolas Chacon and Hidenori Otake in his last outing.
Dogboe's opponent, Navarrete (25-1, 22 KOs), is in splendid form and has won his last eight bouts through knockouts and will be hoping to give the Ghanaian a tough contest.
The Mexican's last defeat was in 2012 when he fought Daniel Argueta in his sixth professional fight before going on to win his last 20 fights to land his maiden shot at a world title against champion Dogboe.
It will be his chance to dethrone a well composed and determined Ghanaian world champion in Dogboe who has been praised for his tremendous impact in the sport recently.