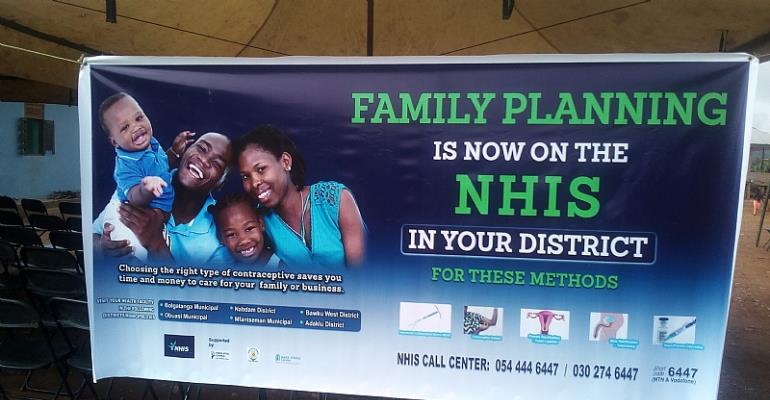 The National Health Insurance Scheme (NHIS) would roll out a pilot project which would include Family Planning in its service in some selected districts in the country.
As one of the six selected districts, a durbar was held in Odumasi in the Obuasi East District on Thursday, 26th April, 2018 to officially announce this refreshing news to the people.
Addressing the gathering, the Deputy Director Corporate Affairs, NHIS, Madam Stella Adu Amankwah said the introduction of family planning into the scheme was a result of concerns raised by the people to make Family Planning free. She again, said that the policy which is expected to start on 1st May, 2018 is intended to prevent unwanted pregnancies and rapid population growth.
She appealed to the people especially married couples to take full advantage of this policy and visit the hospital on matters of family planning.
The Obuasi Office of NHIS used the opportunity to educate the people to periodically renew their subscriptions in order to enjoy quality health care. They again, advised the people not to wait till they are sick or indisposed before they decide to renew their subscriptions.
The other selected districts for the pilot project include Bolgatanga Municipal, Bawku West District, Nabdam District, Mfantseman Municipal and Adaklu District.
Chiefs, Medical Professional, Heads of Department and the Media were all present.