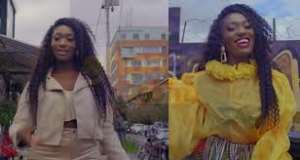 Rufftown records new signee, Wendy Shay, has caused a stir on social media after releasing videos of her single dubbed "Uber Driver".
Some fans of late Ebony Reigns were quick to assert that Wendy has appropriately filled the shoes of the late singer while others think Ebony Reigns is irreplaceable.
Wendy Shay shot to fame after the demise of Dancehall songstress, Ebony Reigns who died in an unfortunate accident in the Brong-Ahafo Region.
She was introduced by Ricky Osei Agyemang known as Bullet the same manager who brought Ebony into the limelight before her untimely death.
In less than 48 hours after the release of song, it has received over 100,000 views with Bullet