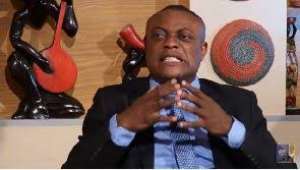 Popular Ghanaian lawyer, Dr. Maurice Ampaw has descended heavily on men who go down their partners just to pass their tongues in their private parts during a sexual encounter.
Ampaw spoke heavily against the act when speaking to B Ice on Agyenkwa FM in Kumasi stating that it is wrong and awful for a man to engage in such an act just to please the partner. He boldly stated that men who lack sense lick women because the laws speak against it.
Again, Maurice Ampaw maintained that God did not create the tongue to lick women so it baffles him when he hears that some men engage in such horrendous activity.
Any man who licks women does not have sense. The law says it is unnatural because God did not create the private part of women for the tongue. How can you lick a woman with a stingy private part? There are several diseases under there and you become bold to put your nose and tongue there, are you even normal? Most men who lick women mostly do not have working brains." he strongly opined.
When asked if he has never engaged in such move, the outspoken lawyer quickly replied "I'll be a fool to do that. God has created my machine gun just t fire very well so why will I let it sleep and use my tongue?. Jesus Christ, I'll be a fool to do that."
After rebuking men who lick women, he went ahead to also to strike vigorously ladies who suck men.